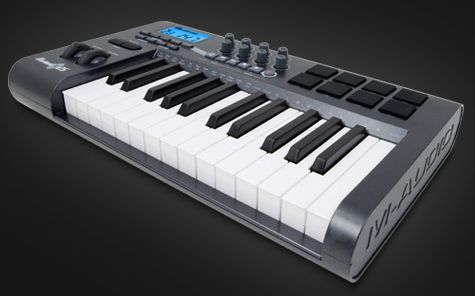 My toy: M-Audio Axiom 25 USB MIDI keyboard
For my 40th birthday, the Ginger Ninja got me something I'd had my eye on for some time: a USB MIDI keyboard, specifically an M-Audio Axiom 25, a nice little unit with a lot of features. Prior to my picking up the accordion and getting the "Accordion Guy" nickname, I was a synth player for a good long time. I've been meaning to get back into it.
I still have a couple of old hardware synths: a Korg Wavestation A/D (a rackmount unit version of the Korg Wavestation) from my days at Crazy Go Nuts University and a Korg Poly-800 that my friend Steph gave to me when she moved out of town.
My last experience was software synths wasn't all that hot: it was in the late 1990s, when computers and networking were a great deal slower. Software synths felt very "laggy" in comparison to my good ol' reliable hardware, and after noodling with them for a while, I decided that I'd give technology some time to play catch-up. That time has come, and I'd like to ask any of you who are familiar with this stuff: what are your favorite software synths, samplers and sound modules?
I'm looking for a couple of things in software form:
A nice, decent general purpose synth/sampler. I expect I'll be doing more sequencing than live performance, but you never know…
A "groove builder" or "Groovebox" in the spirit of the Roland MC-303
I'm currently on a PC laptop (running Ubuntu and when absolutely necessary, Vista), but I expect to buy a Macbook Pro sometime in the near future. I'd like to hear about what's available for any platform. Let me know in the comments!