This article also appears in Canadian Developer Connection.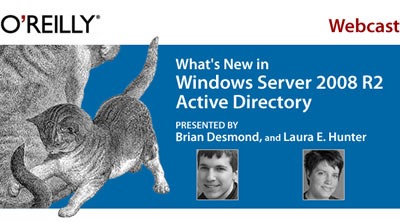 I just got an email from the folks at O'Reilly telling me about a webcast they're hosting this Friday, April 24th at 10 a.m. Pacific (1 p.m. Eastern): What's New in Windows Server 2008 R2 Active Directory. Here's the abstract:
Bring your Active Directory questions and come learn what's new in Active Directory for Windows Server 2008 R2. Active Directory MVPs and authors Brian Desmond (Active Directory, 4th Edition) and Laura Hunter (Active Directory Cookbook, 3rd Edition) will discuss exciting new features in R2 for AD including the AD Recycle Bin, AD PowerShell, the Active Directory Administrative Center, Managed Service Accounts, and more. They will reserve half of the event time to answer questions about the presentation and Active Directory in general.
You have to register to catch this webcast, but it's free-as-in-no-money-required. Space is limited, so register soon!