Can't see the video? You can download and install Silverlight or download the video in iPod (MP4), MP3, WMA, WMV, WMV (High) or Zune formats.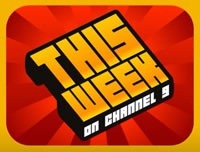 Here's what's up on the latest edition of This Week on Channel 9, the summary of the most interesting videos and news on Microsoft's Channel 9 site:
This article also appears in Canadian Developer Connection.