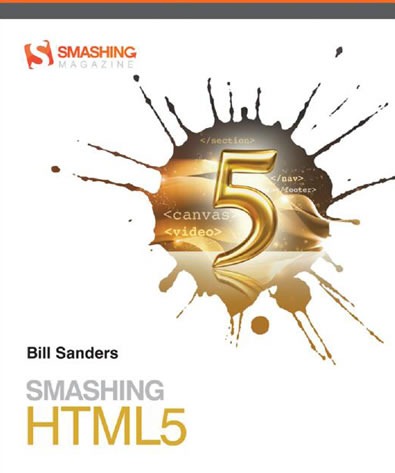 If you're doing web development or design, you should be checking Smashing Magazine often. There's always some useful article, tutorial or tidbit that you can add to your "utility belt", whether it's from their own articles or from the Smashing Network, a set of links to selected articles from design blogs. If it's not in your collection of bookmarks or in your RSS reader, add it now!
Smashing Magazine have just published a book on HTML 5 titled Smashing HTML 5. Whether you're an HTML newbie or Finnegan the Folk Hero of HTML, you'll find this book useful. The first half of the book is the meat-and-potatoes part, covering the structure of pages and all the changes that HTML 5 brings to them. The second half is where the whiz-bang stuff that most people associate with HTML 5 gets handled: images, sound, video, JavaScript, canvas, forms, geolocation, storage and so on. Since it's a Smashing Magazine book, it's not just informative, it's also nicely designed and pleasing to look at.
Smashing HTML 5 is currently available from Amazon Canada for CAD$30.23.
This article also appears in Canadian Developer Connection.
{ 2 comments }