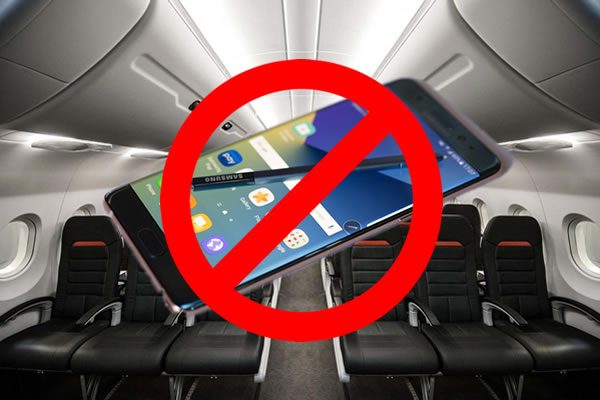 I've been seeings reports from friends on Facebook and Twitter of warnings about using Samsung Galaxy Note 7 devices on flights.
Sutha Kamal, VP Technology Strategy for Technicolor, whom I know from DemoCamp Toronto, was on a KLM flight this morning. He posted on Facebook that one of the safety announcements was "It is strictly forbidden to turn on or charge your Samsung Galaxy 7 phone on this place". I wonder how actively they had the flight crew looking for Galaxy Note 7s (and not Galaxy 7s, which don't have the battery problem), what with everything else they have to do.
In response to Sutha's post, Stuart MacDonald, principal at his Toronto-based consulting company said that Air Canada is doing gate checks for Galaxy Note 7s, and another friend of Sutha's said that United did the same last Friday.
Farhan Thawar, formerly Mobile CTO and VP Engineering at Pivotal Labs, and currently co-founder of a startup in stealth mode, tweeted this:
Flight attendant just reminded us that @samsung Galaxy Note 7 devices must be completely turned off for this flight @AirCanada

— Farhan Thawar (@fnthawar) September 13, 2016

From there, I decided to search Twitter and found similar reports:
New York Times tech reporter Mike Isaac tweeted this:
Have been warned THREE separate times about the Samsung galaxy note 7 exploding before this flight. Worst ad campaign ever

— ಠ_ಠ (@MikeIsaac) September 13, 2016
Adobe's principal graphic designer Khoi Vinh tweeted:…
About to board a flight and they made an announcement specifically about the Galaxy Note 7: "Do not power it on if you have one."

— Khoi Vinh (@khoi) September 10, 2016
and he blogged about it as well.
Brian Behlendorf, executive director at the Hyperledger Project, had this to say earlier today:
On a plane about to take off. Twice they have warned people not to charge or use Galaxy Note 7s on the flight. Wow.

— brianbehlendorf (@brianbehlendorf) September 14, 2016
From Rajat Agrawal, BGR India and Mashable India editor:
Finally heard the warning about not using or charging Samsung Galaxy Note 7 on a flight. This is terrible for Samsung.

— Rajat Agrawal (@rajatagr) September 14, 2016
Buzzfeed's Anne Helen Petersen:
wow Delta isn't allowing Galaxy Note 7 phones in checked baggage or to be turned on at any time during flight

— Anne Helen Petersen (@annehelen) September 12, 2016
And there's this gem from @Pelangihani:
Me if I see anyone turn on or charge their Samsung Galaxy Note 7 on my flight. pic.twitter.com/6SuQVOjWBH

— Hani (@Pelangihani) September 14, 2016

Khoi Vinh summed it up quite well in his blog entry:
Potentially embarrassing and even dangerous technological flaws are a fact of life for every hardware company—they may be extremely rare, but they are an ever present risk. What sets the best companies apart from others is their ability to respond in a way that preserves their brand and wins back the trust of customers. Unfortunately, I can't imagine a worse situation for Samsung than having what amounts to a public service announcement before every flight advising customers not to use your product.