Tampa Bay UX: Apple TV Resources
This is a page of resources for attendees of the Apple TV UX presentation at the Tampa Bay UX Group Meetup that Anitra Pavka (pictured above) presented on my behalf and took place on Wednesday, April 20, 2016. Thanks for attending!
Here's a SlideShare of the presentation deck:
Download the presentation slides and demo scripts
The presentation slides (in PowerPoint .pptx format) and demo scripts (PDF format) are available for download as a single ZIP file (35MB).
Straight from the source: The HIG (Human Interface Guidelines)
Articles on designing tvOS apps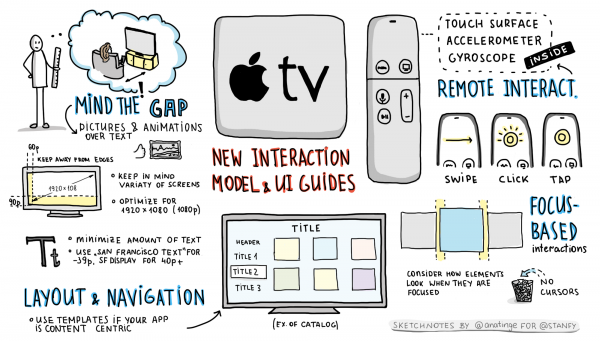 Apple TV is still new, so there aren't that many articles on designing for it yet. Here are some notable ones:
Getting started with tvOS app development
Xcode
The first things you'll need are a Mac and Xcode, the IDE (integrated development environment) for all Apple development. Xcode is necessary for developing not just tvOS apps, but iOS apps and Mac OS applications as well.
Xcode comes with a simulator, which lets you test your apps without having to deploy them onto a device. While the simulator lets you test tvOS apps without the need for an Apple TV, there's no substitute for the real thing.
Xcode is available for free, and the easiest way to get Xcode is to install it using the Mac App Store. The download and installation process can take a while (30 to 90 minutes, depending on the speed of your connection and your Mac).
The San Francisco fonts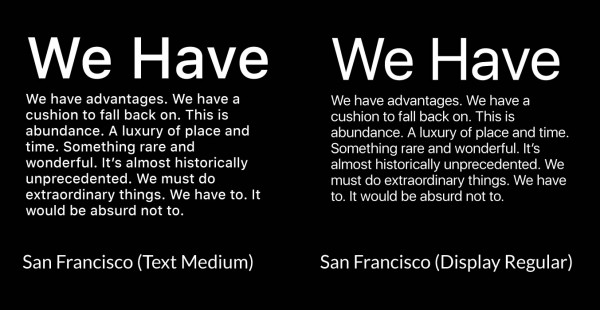 You'll also need to download San Francisco, the standard family of fonts for all Apple UIs. You'll need an Apple Developer account to get them.
An Apple Developer account (optional, but you should get the free one)
There are two kinds of Apple Developer accounts:
Free: Not technically a developer account, but additional privileges added to your Apple ID that let you deploy apps from your computer to your own Apple TV, iPhone, and iPad. It also gives you access to Xcode Developer Tools, Xcode beta releases, developer forums, and more.
Paid: For $99 a year, the paid developer account gives you full developer privileges, including being able to deploy apps not just to your own computer, but a decent-sized group of testers, and to the App Store.
If you'd like to be able to deploy apps to an Apple TV, you'll need at least a free developer account. The video below shows you how to get one:
An Apple TV and USB-C cable (optional, but recommended)
If you're serious about learning how to build interfaces and apps for Apple TV, you should get one. If you subscribe to Netflix or any other streaming service supported by Apple TV, you have another excuse to get one; it's simply the best streaming set-top box on the market. At $200 for the 64GB model and $150 for the 32GB one, it's reasonably priced. If you search online, you may be able to find a sale (at the time of this writing, there was a Groupon where the 32GB model was priced at $120).
In order to deploy apps to an Apple TV, you need a USB-A-to-USB-C cable. The USB-A end has the familiar-look looking plug that goes into your computer and looks like this:
USB-C is a newer plug type. It's skinny, and unlike USB-A, it's reversible, which means that there's no "wrong" way to plug it in. It looks like this:
USB-A-to-USB-C cables are still rare and hard to find at Best Buy and even the Apple Store. Your best bet is to find them online. I recommend Monoprice's cables, as they've received Google Engineer Benson Leung's blessing (he's been leading the campaign against low-quality USB-C cables).
Tutorials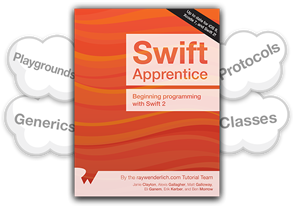 While there are a few tutorials online, I strongly recommend that you use RayWenderlich.com's books on tvOS development. They're well-written and very thorough, and far more informative than anything I've found online, especially for people new to tvOS development and especially development in general.
You may also want to take a look at these online tutorials: