New Company, New Site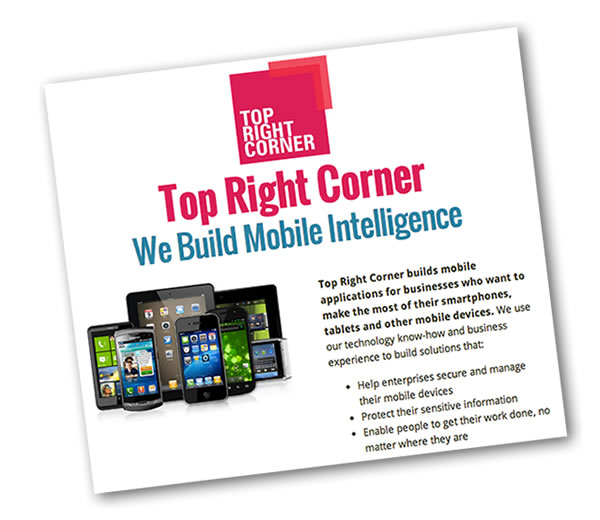 After all the fuss on this blog about interviewing programmers and giving them the FizzBuzz test, here's the reason why: Top Right Corner, the enterprise mobile application startup that my old friend Jesse is bootstrapping and CEOing, and for which I'm CTOing, software designing, and cat herding. We have been, to use my friend Harley "H-Fizzle" Finkelstein's favourite verb, hustling, in both the business and software development senses of the word over the  past few weeks, and it looks as though it's starting to pay off.
Our first hire, Fayyaz (who passed the FizzBuzz test), has been nothing short of outstanding. He's put in some long hours on XCode and Objective-C getting the iOS version of our product, SafeScan, into demo-able shape, and I've happily taken calls from him at midnight to confab with him about design decisions, matters of bug-fixing and the minutae of making iPhones and iPads do our bidding. Ewan has been working equally hard with Eclipse and Java on the Android version. Our other hire, Benedict (who also passed the FizzBuzz test) has his first day today — he'll be our back-end developer, writing the server software behind the apps.
Being a startup, each of us has had to wear many hats, so it fell to me to put together a quick and dirty site for the company, which lives at thetoprightcorner.com. It'll give you the general idea of who we are and what we do, and you can always drop me a line if you'd like to know more.
Where the Name Came From
In case you were wondering: the name "Top Right Corner" is my fault. The name came to me back in March at the South by Southwest conference, when smartphone battery life was a major concern. Looking at all the people huddled around whatever wall outlet was handy, I quipped that everyone was obsessed with the top right corner of their phone screens, which is where the battery level icon lives:
I'd forgotten about that observation until recently, when Jesse and I were trying to think up a better name for our startup. While toprightcorner.com was already taken by a video production company in L.A., thetoprightcorner.com — which was close enough — was available.
In order to sell Jesse on the name, I quickly came up with an additional, suit-friendly, enterprise-compliant, get-a-nod-of-approval-from-the-MBAs reference in the name. The top right quadrant is where you want to be in Gartner's "Magic Quadrant" graphs. Here's an example: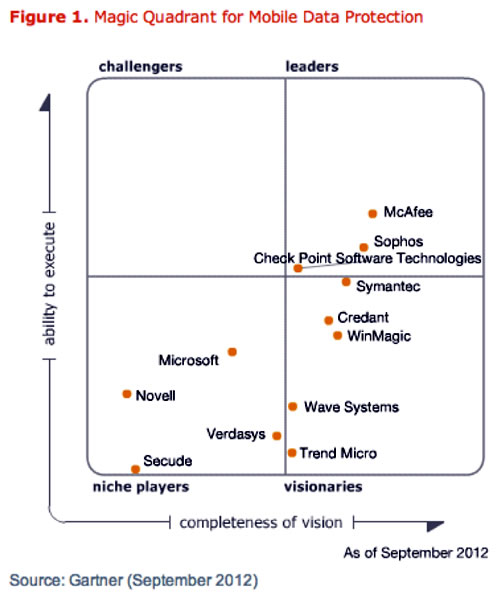 As with their predictions, I tend to take Gartner's Magic Quadrant with a huge grain of salt, and it appears I'm not the only one:
There's also this little bit of verse:
Puff the Magic Quadrant
Puts vendors in the light
And everyone fights really hard
To be in the upper right
Anyway, it has a meaning for both mobile geeks and suits, it sounds reasonably clever and there was a domain name available. And thus we got a name.