A Shallow Pool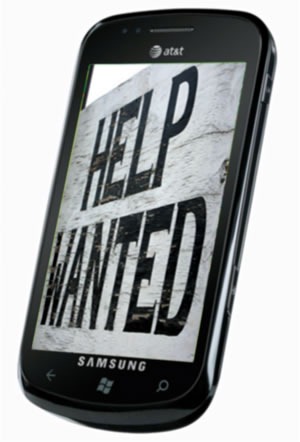 The subtitle of the Wall Street Journal article Mobile App Talent Pool is Shallow tells the story: "Companies Scramble for Engineers Who Can Write Software for Smartphones". If you've got the mobile dev know-how, you can write your own ticket anywhere.
Some of the key take-aways of the article:
Companies are competing fiercely with each other in an attempt to snap up mobile development talent – to the point where the competition is a "bottleneck".
The number of developers with mobile development skills isn't enough to meet the demand, which has been increasing at a greater rate than for other types of development.
The shortage of mobile talent means that companies are willing to find developers with promise and invest in getting them trained to develop mobile applications.
The wages are good: average pay among mobile developers and designers is higher, with a Dice.com survey taken last fall reporting that experience mobile developers are raking in US$90K – $150K.
Deep Opportunities
If you've read Malcolm Gladwell's Outliers, you know all about the importance of having a head start. The book is full of king-sized success stories, from Bill Gates to the Beatles to hockey players to big Manhattan lawyers, all of whom were passionate about something, honed their skills and then capitalized on that experience when the opportunities arose.
If you're a .NET developer, Windows Phone is a "lining up of the planets" that represents an opportunity that you can capitalize on:
You already have a head start on Windows Phone development! You use Visual Studio (either the full version or the free Express edition) as your IDE, familiar languages like C# and VB, and the .NET framework. If you've been working with Silverlight or XNA, you're even father ahead of the game.
You can stand out. The growth in the number of apps in Windows Phone's marketplace is pretty impressive; about 12,000 since November and climbing fast. It's the perfect opportunity for someone trying to make a name: small enough that you can make a splash, but big enough so that the splash you make actually matters.
We've got your back. Microsoft has team of Windows Phone 7 "Champs", whose mission is to make sure that you get the help, information and support as you write Windows Phone apps. As far as I know, the Esteemed Competition doesn't have a team that has this level of support for developers building on their platforms.
Hackfests in Vancouver and Toronto Tomorrow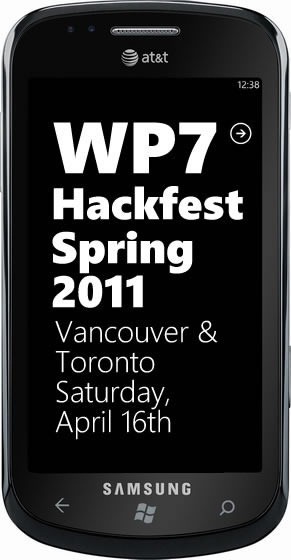 If you've been thinking about getting into Windows Phone development and you're in the Vancouver or Toronto areas, you're in luck – we've got free Windows Phone Hackfests in those cities tomorrow! These are events where you can learn about Windows Phone development, try your hand at it, and share ideas for apps. Here are the details: