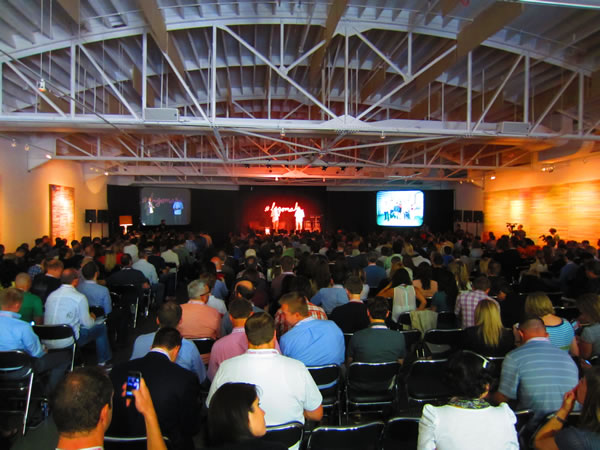 At last week's Big Omaha conference, I wanted to boost Shopify's presence there, in spite of the fact that we weren't sponsors. In exchange for big money, sponsors get to have their logos plastered on all sorts of things, they get name-checked by the MC and theirs are the names that you often remember after the last attendee staggers out of the last after-party.
Not everyone can be a sponsor: in some cases, you don't have the money or have other, higher-priority things that you want to spend it on, and in other cases, you have the money and want to sponsor, but you've missed the deadline and the conference's sponsor rolls are full. My own case was a little bit of both, and I decided to come up with an inexpensive way to leave a sponsor-like impact at Big Omaha — aside from playing the accordion, of course. Feel free to borrow this trick from me — and let me know how it works!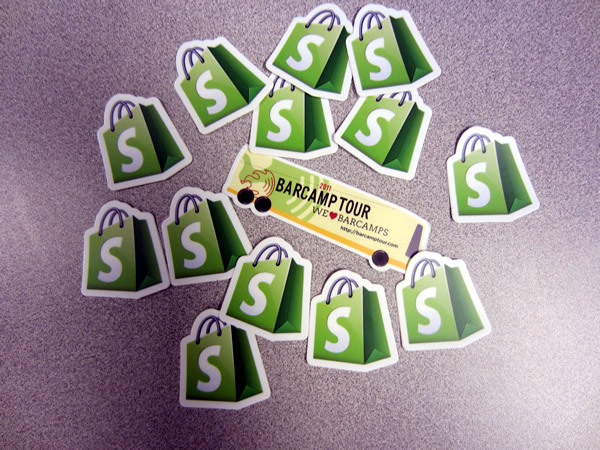 I started with the usual Shopify promotional swag. I keep a stash of Shopify stickers, coasters and bottle openers. These are, for the purposes of this exercise, free.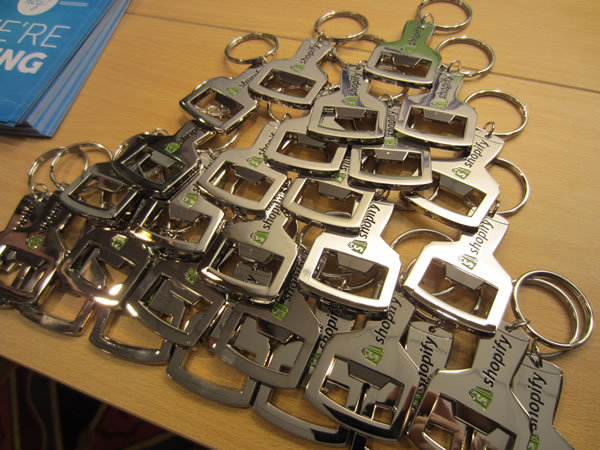 I created a one-page flyer that said "Hello from Shopify!", introduced me as the Platform Evangelist and announced my presence at the conference. The flyer also provides some useful information for attendees: a quick list of tips on how to "work the room". Finally, it presented an offer to all attendees and their friends: three months of Shopify free if you sign up for a shop at an URL which I'd had set up earlier.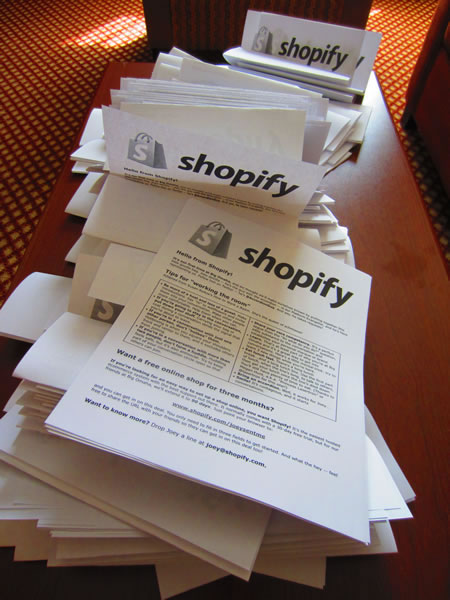 I printed and made 200 copies of the flyer at the FedEx Office near me. If you'd like a copy of the flyer, click here (it's a 218KB zipped PDF file)! The cost of printing and copying came out to about $25.
Next purchase: 150 paper lunch sacks. I was staying in downtown Omaha an uncertain how close the nearest grocery store would be, so I picked them up at a grocery store close to home and along with the swag and flyers, packed them with my luggage. The total cost for 150 bags was $7.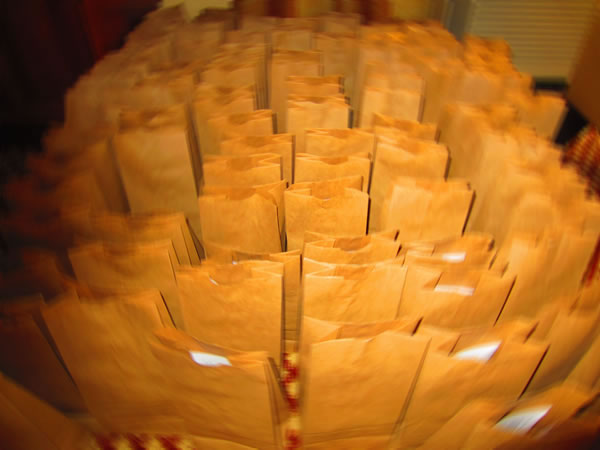 Final purchase: chocolate! I had a word with the people at my hotel's front desk during the afternoon lull and got them to give me a lift in the courtesy van to the nearest Walgreen's where I bought $60 worth of Dove chocolates — the little ones wrapped in foil that come in bags. They're usually available on special, so I was really able to stretch my dollar on this one, and the courtesy van ride — to the drugstore and back (the driver waited while I quickly made my purchase) — was free.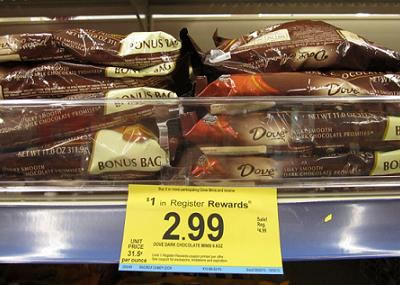 I spent an hour and a quarter assembling the loot bags in my hotel room the day before the conference. I folded the flyers first. Then I popped open the bags and sat them upright in rows, after which I stuffed them with the flyers, swag and about 4- 8 chocolates each.
I attended the evening party, after which I returned to the hotel around midnight and asked the front desk for a ride to the conference venue in the courtesy van  in the morning, as well as whatever large boxes they could spare (to carry the loot bags). They were happy to help out. (The trick is to make your special requests during lulls — they're not being deluged with calls for help from other guests and are probably bored and looking for something to break up the monotony.)
In the morning, I found that some other guest who hadn't reserved the van but needed a last-minute ride to the airport or else he'd miss his flight had commandeered it. After explaining that I couldn't carry several boxes of loot bags to the conference without a vehicle, the general manager decided to give me a ride in his own car.
"It's a little unusual," he said. "D'you mind if there's no doors?"
"Sounds like fun. What kind of car do you have?"
"Wait," he said, and moments later, appeared in this beast:
So this is how I came to Big Omaha: large, in charge, and bearing 150 loot bags.
I dragged the boxes in and positioned myself in a spot where people were making their way to their seats and handed out the loot bags.
It made an impact on at least one person:

So there you have it: all the reach of a sponsor swag table or big logo on a wall, complete with whatever message you want to send, for about a hundred bucks. As I said earlier, feel free to borrow this little conference trick, and tell me how it works out for you!