We've all had some form of this experience (sometimes, I need to flip the USB plug only once):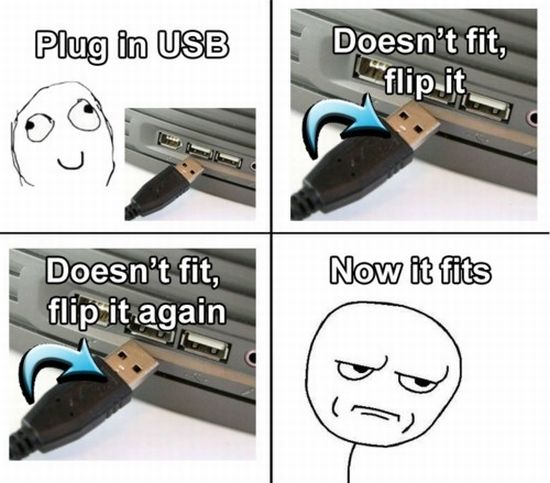 Apple's solution to the problem was the Lightning connector, a beautiful and proprietary 8-pin connector that can be inserted with either side facing up, and for which they'd be very happy to charge a licensing fee for building devices that are compatible with it:

For people who like Apple devices and for whom good design is important, Lightning is worth the price. For those who thought that beige desktops and big grey laptops were just-fine-thank-you-very-much, their reaction's more like this:
It looks as though good ol' USB will finally follow suit. Brad Saunders, chair of the USB 3.0 Promoter Group says that the proposed USB Type-C connector — an addition to the USB 3.1 spec — will be about the size of a Micro USB plug and be reversible. The spec for the connector is expected to be finalized "by the middle of 2014″, presumably in order to give manufacturers time to ramp up for the holiday season.
According to Intel's Alex Peleg:
"[The USB Type-C connector] will enable an entirely new super-thin class of devices from phones to tablets, to 2-in-1s, to laptops to desktops. This new industry standards-based thin connector delivering data, power, and video is the only connector one will need across all devices."
Let's hope it's prettier than the current Micro USB 3 connector. It would appear that it was "designed" by people who, to use an expression I heard ages ago, "have the visual sense that God gave oysters":
While it remains to be seen how the connector standards will turn out, one thing is clear: I've got boxes and boxes of cables that are soon to become obsolete.