How's Windows Phone doing? It depends on which numbers you look at. On one hand, a recent report from Forbes says that the Q3 2013 numbers look promising. On the other hand, TechCrunch is reporting that Nokia, who account for 93% of Windows Phone sales, reported a drop in sales during 2013's Q4 period, the holiday buying time when a drop in sales suggests that something's gone wrong.
The good numbers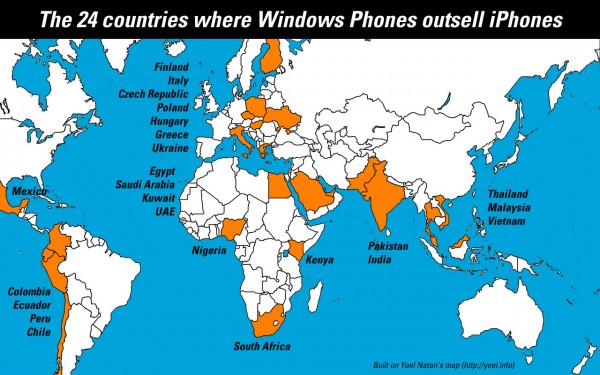 One of the good numbers that Windows Phone can boast is that there are 24 countries where Windows Phone outsells the iPhone. They're pointed out in the map above and listed in alphabetical order below, along with their World Bank GDP ranking based on figures from 1990 to 2012 (out of 190 countries):
The Forbes article says that if you don't count Italy and Finland, Windows Phones outsell iPhones in "poorer nations" where Apple's prices are prohibitively expensive. It would appear that in Forbes' estimation, with its current financial woes, Greece is now a "poorer nation", lumped in the same basket as Kenya.
It should be noted that nearly a quarter of these "poorer countries" have been designated up-and-comers by the financial industry, either as MINT (Mexico, Indonesia, Nigeria, and Turkey, a designation popularized by Goldman Sachs' Jim O'Neill, who coined BRIC) or "Next Eleven" (another term created by O'Neill). The MINT and "Next Eleven" countries are seen by economists as having a high potential of becoming the world's largest economies in the 21st century, with promising outlooks for growth and future investment. They were selected based on criteria such as economic stability, quality of education, open trade and investment policies, and political maturity and stability. In other words, they'll play a larger role in the way the world works in the days to come, and they'll definitely influence technology. These countries will be the next marketplace battleground for mobile vendors, and right now, it's anyone's to win.
Windows Phone shipments (Forbes reports it as sales, but the IDC report says shipments) grew 156% from Q3 2012 to Q3 2013. That rate is three times Android's and six times iOS' growth in the same period. Nokia — and once the acquisition is formalized, Microsoft — owns the vast majority of these sales: 93.2%, and most of these were for low-end models like the Lumia 520 and 521.
The bad numbers
Nokia Lumia's fortunes are Windows Phone's fortunes, what with Nokia accounting for nearly 95% of Windows Phone sales. Nokia Lumia sales have been climbing steadily from Q3 2012's nearly 3 million to 8.8 million in Q3 2013; sales have doubled from 2012 to 2013.
Strangely, sales fell by .6 million during the holiday quarter of Q4 2013, a period when they should go up. We'll see over the next couple of quarters whether this is a momentary hiccup or the start of a general downward trend (BGR calls it a "collapse", but I think it's too soon to tell). These slightly disappointing numbers will be the last ones that Nokia's phone division will do so as a part of Nokia; next time, they'll be doing so as a department of Microsoft.
Another set of bad number for Windows Phone is its poor mobile ad revenue numbers, which are even worse than Symbian's and BlackBerry's. BGR points to Opera's (the browser company) Q2 2013 State of Mobile Advertising report, which says that Windows Phone accounted for just over a quarter of a percent of mobile advertising in 2013's second quarter; it accounted for 0.35% of ad revenues generated on Opera's 425 million user, 60 billion impressions/month mobile ad network.
This is bad news for the Windows Phone platform, as many developers make money by giving away their apps for free and using in-app ads to generate revenue. This may be keeping developers away, which in turn keeps apps away, and the availability of apps is a factor in people's smartphone purchase decisions.
The weird numbers
Now that we're at the start of 2014, it's time to look again at some old predictions on where Windows Phone will in 2015, which is now just a year away. Here's Gartner's, in which they predicted that by 2015, Windows Phone will be the number two mobile OS, with just under 20% of the market:
Here's IDC's prediction for 2015. Like Gartner, they predicted that Windows Phone would be the number two operating system, but they said that it would have just over 20% of the market. I'd point to their report, but they've since taken it down (here's a BGR article that quotes it):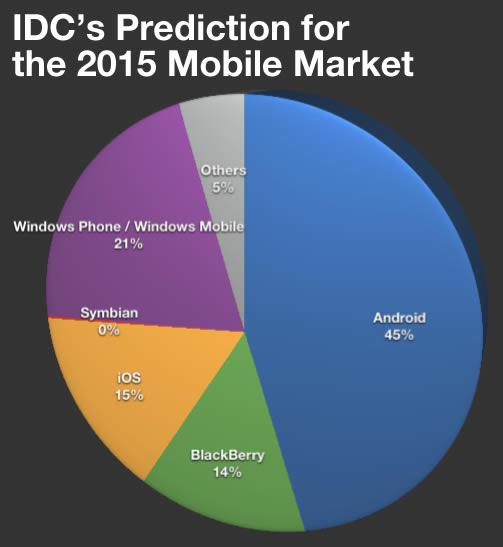 And finally, here's the most way-out-there prediction: the forecast by Pyramid Research. In May 2011, they predicted that Windows Phone would "establish its leadership in 2015":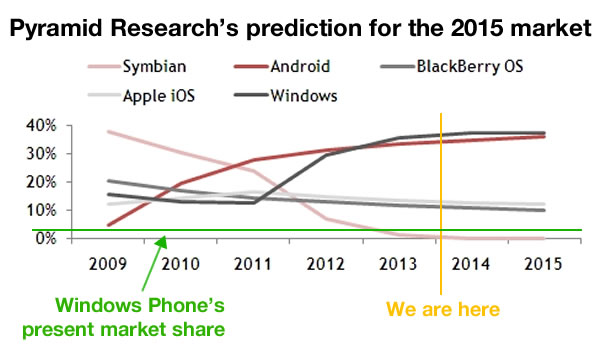 As a point of comparison, here are StatCounter's mobile OS stats as of this writing: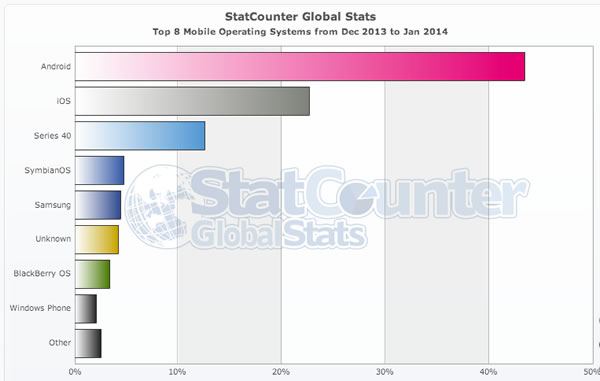 It's a good reminder to always temper any analyst predictions you read with some common sense.