Google buys Divide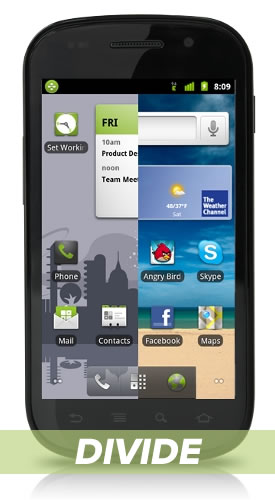 "Beautiful BYOD" is the tag line for Divide, the software for Android and iOS that splits smartphones into separate "work" and "personal" containers. As Re/code's Ina Fried notes, Divide "allows businesses to manage their data even on devices they don't own, and gives individuals freedom to still use their phone to run the kinds of apps they want to". Google Ventures is a backer, and in a move that is likely meant to help increase Android's enterprise adoption (which trails iOS enterprise adoption significantly), Google is buying Divide.
If you need a primer on Divide or their approach to the market, here's a video (19 minutes, 12 seconds) featuring Ina Fried interviewing Divide co-founder Alexander Trewby and representatives from other mobile enterprise companies at Mobile World Congress 2012:
The Register's praise for the Moto E — and one gripe
The Register doesn't mince words. They've built their reputation on snark on not giving any quarter when it comes to criticism. So when they sing the praises of Motorola's new fully-featured yet easy-on-the-wallet Moto E (which we wrote about last week), it's worth noting. Their only complaint is that there's no front-facing camera:
So has Motorola repeated the trick it pulled off with the Moto G? For just £90 you are getting a decent – no, make that a very decent – bit of kit, but come on guys, what's with the missing webcam? That really spoils the soup for want of a pinch of salt.

How much would it have cost to add a VGA front camera to the Moto E? £2? Less? I'm guessing that the reason for the omission is to make the Moto G seem more attractive by giving the Moto E an Achilles' heel. It's possibly a trend as the £95 Nokia Lumia 520 lacks a webcam too, but for me it's a deal breaker as I use the webcam on my Moto G regularly to video chat on Skype.

While others might not care so much about a front-facing camera, I find its absence actually annoys me and knocks some of the shine off a device that I'd otherwise be very enthusiastic about. As it stands, unless you are after a backup handset, are confident that you will never have a use for a webcam or are truly skint, I'd suggest saving up the extra £70 and buying the 4G Moto G.
No Skype video chat, no selfies, but for $129 in the US or £90 (US$150) in the UK, it's a lot of smartphone for so little money. As we said earlier, we think it's got potential as phones for businesses on tight budgets, and we hope that Motorola under Lenovo continues on this streak.
Samsung sold 500,000 smartwatches in Q1 2014
Android Beat reports that Samsung now has the lion's share — 71% — of the global smartphone market. Citing Strategy Analytics' $7000 Global Smartwatch Vendor Marketshare: Q1 2014 report, Samsung sold 500,000 out of the 700,000 smartwatches sold globally in the first quarter of this year, thanks to their big marketing push (which includes this very good ad, and the hilariously painful "Jack and Aimee hit the slopes" video) and bundling it with their Galaxy Note 3 "phablet". These sales numbers may need to be tempered with the fact that late last year, the return rate for Samsung's smartwatches was an embarrassing 30%.