The attempted glamor shots of James Damore in the New York Times article Push for Gender Equality in Tech? Some Men Say It's Gone Too Far are wasted on a permanently rumpled guy who's not enough of a goddamned grown-up to put on a pressed shirt for an appearance in one of the world's most-read publications. At least they had the decency to leave lots of room in the shots to add insightful commentary, as I did in the examples above and below.
The article is packed with stories of male nerds bereft of all common sense. One of the bits that made me laugh out loud is this quote from Nvidia engineer James Alitzer, who somehow both agreed to be named in the article and said this (the emphasis on the stupid bits is mine):
"I'm sitting in a soundproof booth right now because I'm afraid someone will hear me. When you're discussing gender issues, it's almost religious, the response. It's almost zealotry."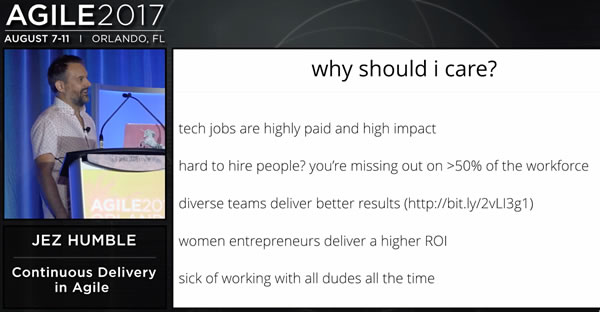 If you really want to learn something about the controversy of which Damore is the slovenly, unkempt center, you're far better served by taking a look at Jez Humble's presentation at the recent Agile2017 conference in Orlando. Go to this video of his presentation, skip to the 49:25 mark, and hear some of the best rebuttals to the whiny claims of James Damore and his "women and coloreds ruin everything" ilk.