It's going to be a busy week in Tampa Bay, with the Synapse Summit taking place at the start of the week. Even if it weren't happening, there'd still be lots to do — the scene here is growing in leaps and bounds. Make sure you get out there, catch an event that interests you, learn something, and make connections and friends!
Here's what's happening in Tampa Bay this week!
This weekly list is posted as a voluntary service to the Tampa tech community. With the notable exceptions of Tampa iOS Meetup and Coders, Creatives and Craft Beer — both of which I run — most of this information comes from Meetup.com, EventBrite, and other local event announcement sites. I can't guarantee the accuracy of the dates and times listed here; if you want to be absolutely sure that the event you're interested in is actually taking place, please contact the organizers!
Monday, February 10
Tuesday, February 11
Wednesday, February 12
Thursday, February 13
Friday, February 14
Saturday, February 15
Sunday, February 16
Do you have an upcoming event that you'd like to see on this list?
If you know of an upcoming event that you think should appear on this list, please let me know!
Join the mailing list!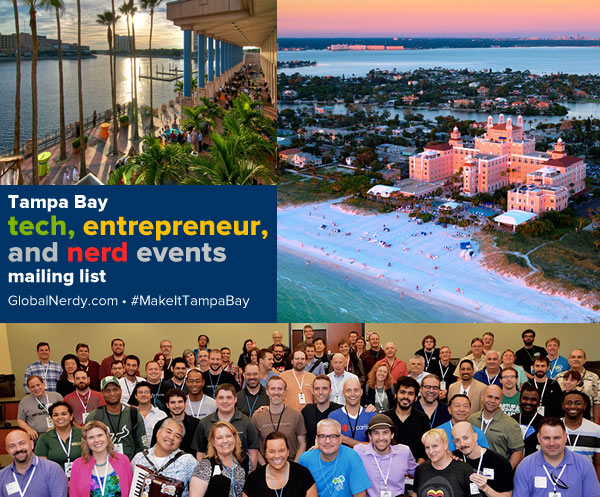 If you'd like to get this list in your email inbox every week, enter your email address below. You'll only be emailed once a week, and the email will contain this list, plus links to any interesting news, upcoming events, and tech articles.
Join the Tampa Bay Tech Events list and always be informed of what's coming up in Tampa Bay!