It's going to be a busy week in Tampa Bay, with the Synapse Summit taking place at the start of the week. Even if it weren't happening, there'd still be lots to do — the scene here is growing in leaps and bounds. Make sure you get out there, catch an event that interests you, learn something, and make connections and friends!
Here's what's happening in Tampa Bay this week!
This weekly list is posted as a voluntary service to the Tampa tech community. With the notable exceptions of Tampa iOS Meetup and Coders, Creatives and Craft Beer — both of which I run — most of this information comes from Meetup.com, EventBrite, and other local event announcement sites. I can't guarantee the accuracy of the dates and times listed here; if you want to be absolutely sure that the event you're interested in is actually taking place, please contact the organizers!
News: Imagining possibilities
Synapse Summit 2020
Synapse Summit 2020 has come and gone, and the third iteration of the annual conference can be judged a success. With a reported 7,000 registrations, a great keynote appearance by Sara Blakely, and gathering the bright lights of the Tampa Bay tech and entrepreneur scenes in one place at the same time, I think it's safe to say that it's now a well-established regular ritual, and that's a great thing.
In case you missed some of the local reports on Synapse Summit 2020, I've gathered a few below:
In all those conversations, I argued that It is true that the Summit is Tampa Bay's tech scene collectively tooting its own horn. There's nothing wrong with that. While it doesn't directly solve some serious problems in Tampa Bay, it is a necessary piece of their solutions. Showcase events like Synapse Summit are necessary, because they show us, the region, the country, and the world, that great tech things are happening in Tampa Bay. They help us recognize the strides we've already made in the area, and encourage us to continue. They bring together our local tech scene, and create the connections and collaborations necessary for innovation. They make people beyond the Bay think "Hey, maybe I should make my way down to the Suncoast."
Simply put, events like Synapse Summit lead us to do one of the most important questions in science, technology, and community: to imagine possibilities.
Tampa Bay Metro: The post that struck a nerve
Last week, I posted a map of a hypothetical Tampa Bay Metro system on my personal blog. Such a thing — five major rapid transit lines spanning Tampa Bay, Old Tampa Bay, and surrounding areas — will likely never see the light of day, but wow, did it get a lot of attention and response! With thousands of views on both my LinkedIn account and the blog, it seems to have struck a nerve.
I think it's another data point for my Synapse Summit argument — sometimes, you need something inspirational, even if it doesn't immediately solve any problems. I like the idea that the map is inspiring people to think about the possibilities.
View the post (and see a link where you can buy the map as a poster) here.
Ignite Tampa Bay 2020: Speak or sponsor; this is your chance!
If you have an idea — especially one that exists only in the world of ideas right now, but could be a reality in the future if we decide that we want to make it real — your chance to share that idea and inspire people to make it real is coming soon! Ignite Tampa Bay, which I like to refer to as "Tapas-sized TED talks", is happening on Thursday, April 16th in St. Pete. If you'd like to speak or sponsor the event, go to the Ignite Tampa Bay site and sign up!
This week's events
Monday, February 17
On Monday, OK! Transmit, the art and technology meetup in St. Pete, is holding the first of their Luminous Art Meetups, where you can learn how to build your own LED (light-emitting diode) circuits to create beautiful animated light art. You'll need to bring stuff — an Arduino Uno, a laptop to program your LEDs, and a USB A/B cable — but the results will be worth it.
Tuesday, February 18
Suncoast Credit Union and the Tampa Bay Tech4Good MeetUp will team up on Tuesday to host a Tech Security Fair. The fair will feature 4 topics/tables include:
Business Continuity and Disaster Recovery – this will provide plans to ensure your business/nonprofit survives in the case of a disaster, security breach, etc.
End Point Security – volunteers will help you understand what malware and anti-virus mean, and give recommendations on what tools you should look into to protect yourself from digital threats.
Password Management – you'll learn best practices to ensure you have a password that will prevent being hacked, and learn about multi-authentication.
Information Security – learn everything you need to protect your key information and platforms, such as your Data, Websites, Internet, Wifi, etc.
Wednesday, February 19
If your schedule doesn't allow for after-work gatherings, how about a before-work one, such as the UX Coffee Talk on Wednesday morning? Meet the people at Tampa Bay UX Group and discuss usability, user interface, and user experience topics in the "lean coffee" format!
Thursday, February 20
High Tech Connect's next get-together happens on Thursday at the Microsoft office. On the agenda are High Tech Connect's new job board, along with presentations by Microsoft, MiSource (staffing), Atmos Effect (a . startup), and the Children's Cancer Center.
Tampa Bay Connections — MELLOW MUSHROOM THURSDAY'S NETWORKING LUNCH @ Mellow Mushroom, 11:30 AM to 1:00 PM
Lean Beer for All Things Agile (Tampa) @ The Pub (at Bay Street in Int'l. Plaza), 6:00 PM to 7:30 PM
The Florida Business Incubator, Inc. — FL Biz Incubator EVENING Brew 'n Do This Week! @ Caledonia Brewing, 6:00 PM to 8:00 PM
Tampa Bay AWS User Group — AWS Success Story and Security Deep Dive @ Jefferson Frank, 6:00 PM to 8:00 PM
Tampa SEO & Internet Marketing Meetup with Steve Scott — Dominate Local Search: Optimizing Your Google My Business Listing @ In The Loop Brewing Company, 6:00 PM to 8:00 PM
Tampa Bay Blockchain Developers Meetup — Blockspaces Presents: Talents, Rebels, and Disruptive Innovation. Fintech Rev. @ 802 E Whiting St, 6:00 PM to 9:00 PM
cYbor Security Meetup — Hardware Hacking Made Easy (Members Only) @ The Undercroft, 6:00 PM to 8:00 PM
Brandon and Seffner area D&D, Pathfinder, and Starfinder — 1st ed AD&D Dwimmermount Campaign @ 405 Mahogany Dr., 6:00 PM to 10:00 PM
America's TriviAddiction — CRESCENT OAKS COUNTRY CLUB – TARPON SPRINGS – LIVE TEAM TRIVIA !!! @ 6:00 PM to 8:00 PM
America's TriviAddiction — CAPTAIN'S CORNER – BROOKSVILLE – LIVE TEAM TRIVIA !!! @ 6:00 PM to 8:00 PM
Tampa Bay Data Science Group — TBDSG Child Abuse/Neglect Recidivism Prediction Results @ Vigo Importing Co, 6:30 PM to 9:30 PM
Tampa JUG — Migrating Monoliths and the Complexities of Stateful MicroServices Development @ Valpak Manufacturing Center, 6:30 PM to 8:30 PM
America's TriviAddiction — BAYSCAPE BISTRO AT HERITAGE ISLES – NEW TAMPA – LIVE TEAM TRIVIA !!! @ 6:30 PM to 8:30 PM
America's TriviAddiction — LAKE JOVITA GOLF AND COUNTRY CLUB – DADE CITY – LIVE TEAM TRIVIA !!! @ 6:30 PM to 8:30 PM
Dunedin Beers & Board Games — Beers and Board Games at Cueni Brewing in Dunedin (Every Thursday) @ Cueni Brewing Co., 6:30 PM to 10:00 PM
The New Tampa/ Wesley Chapel Book Club — "The Secrets we Kept" by Lara Prescott @ 7:00 PM to 9:00 PM
Pinellas/Hillsborough Dungeons & Dragons Meetup — The Ruins of Myth Drannor Campaign Setting @ 7:00 PM to 10:00 PM
Friday, February 21
Friday's Tampa Bay Kanban meetup is about dispelling the myth that Kanban is only good for [ insert domain here ]. It's actually applicable in all sorts of fields, and you'll learn that it's good for anyone who is overburdened and have lack of transparency for the work they need to do.
Saturday, February 22
Sunday, February 23
Do you have an upcoming event that you'd like to see on this list?
If you know of an upcoming event that you think should appear on this list, please let me know!
Join the mailing list!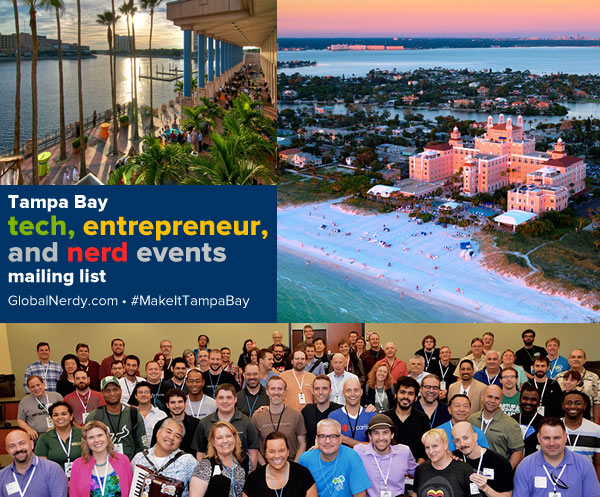 If you'd like to get this list in your email inbox every week, enter your email address below. You'll only be emailed once a week, and the email will contain this list, plus links to any interesting news, upcoming events, and tech articles.
Join the Tampa Bay Tech Events list and always be informed of what's coming up in Tampa Bay!