Here's what's happening in Tampa Bay this week!
This weekly list is posted as a voluntary service to the Tampa tech community. With the notable exceptions of Tampa iOS Meetup and Coders, Creatives and Craft Beer — both of which I run — most of this information comes from Meetup.com, EventBrite, and other local event announcement sites. I can't guarantee the accuracy of the dates and times listed here; if you want to be absolutely sure that the event you're interested in is actually taking place, please contact the organizers!
Marc Maron is (sort of) right about Tampa, and that's okay
Marc Maron, one of the stars of the Netflix series GLOW, a comedian and big-time podcaster (he's estimated to get a quarter-million downloads per episode) was in Tampa last Saturday for his performance at the Straz. He faced some "Florida" weirdness — a couple in the front row got into a fight in the middle of his show and he had to talk them down — and had this to say about the area:
"Downtown Tampa, again, I don't want to judge, but it looks like it halfway happened," he said. "It looked like there was attempt at some point in time to kind of make it hip, to do something with downtown, and it might've happened for a month or two, or maybe a year, but it's definitely on the other side of that."
He was much harsher with Orlando, which he left as quickly as he could because "It's only an hour-and-a-half to Tampa, but there was no [expletive deleted] way—no reason—to hang around Orlando."
As for our own neck of the woods, I would correct one thing. Downtown Tampa isn't halfway happened, but halfway happening. There's a difference, and it's a crucial one.
Maron saw a small slice of downtown Tampa for a small slice of time. He probably saw Tampa U from a distance, and he probably never saw places like Ybor, the various "Heights" neighborhoods, and all of St. Pete and Clearwater. What he saw was a static picture that doesn't show what's been happening over the past few years: the growth of the Riverwalk, the changes in Channelside, the revitalization of St. Pete, and more. His short visit wouldn't have made him aware of Tampa's rising food scene, its well-established beer scene, the new places that are popping up all the time, the numbers of people moving here, and the energy that these changes bring to the area. This isn't "happened", this is "happening".
Keep that in mind as you read about other metros and their booming tech scenes. Things are happening here as well — not just on the big scale with Synapse Summit, Embarc Collective, and the Suncoast Developers Guild, but even on the smaller scale. Just look at my first "What's happening in the Tampa Bay tech scene" post from a mere three years ago versus the list below to see how we've grown and changed.
In the end, the difference between "happened" and "happening" is up to us. So far, we're doing well — let's keep it up!
Monday, February 24
Tuesday, February 25
Wednesday, February 26
Thursday, February 27
Friday, February 28
Saturday, February 29
Sunday, March 1
Do you have an upcoming event that you'd like to see on this list?
If you know of an upcoming event that you think should appear on this list, please let me know!
Join the mailing list!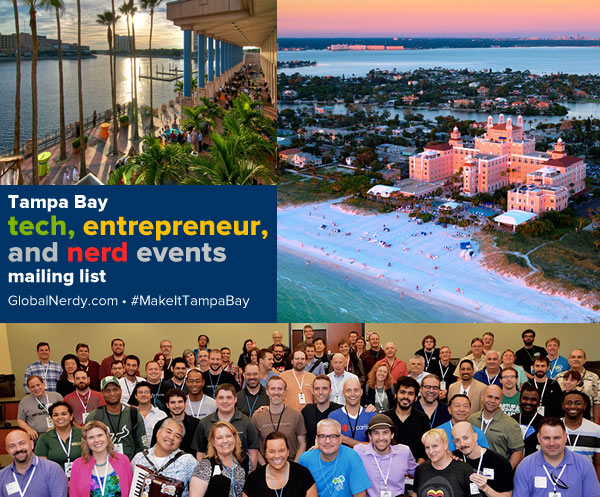 If you'd like to get this list in your email inbox every week, enter your email address below. You'll only be emailed once a week, and the email will contain this list, plus links to any interesting news, upcoming events, and tech articles.
Join the Tampa Bay Tech Events list and always be informed of what's coming up in Tampa Bay!