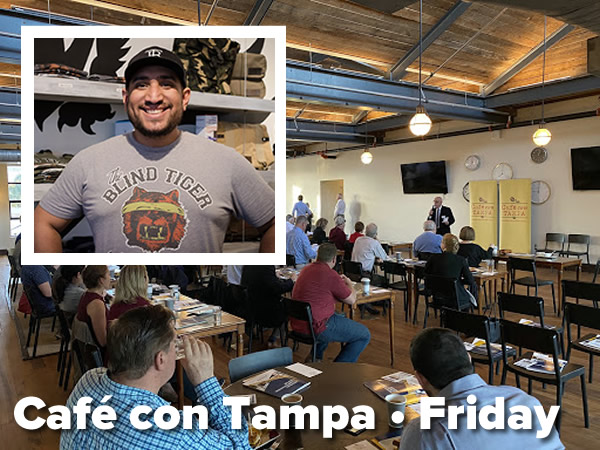 Roberto Torres is an unstoppable force for good in Tampa Bay. Since founding the Blind Tiger Café, he's since expanded to multiple locations all over the area, including a branch called Endeavr located right in our new startup accelerator, Embarc Collective.
Café con Tampa is also an unstoppable force for good — it's a weekly gathering on Friday mornings between 8 and 9 a.m. at the Commerce Club (upstairs at Oxford Exchange) where you'll see interesting speakers give presentations over breakfast on topics that matter to them. Think of it as an intellectual salon with the city's best breakfast sandwiches.
This Friday, March 6th, Roberto Torres is the guest speaker at Café con Tampa, and he'll be presenting on a topic that's near and dear to my heart: choosing Tampa as the destination to live, work, and play.
(I myself made this decision 6 years ago, having driven into town with a Honda CR-V full of my stuff on March 7th, 2014 — this presentation will be a sort of early anniversary for me!)
I'll be there, and I'd like to see some of Tampa's tech community come to this one. It happens this Friday at 8:00 a.m., ends promptly at 9:00. Tickets are $12 at the door (they take cash or credit), and covers the cost of the room and the breakfast buffet.