Another week, another events list!
Welcome to the March 9, 2020 installment of the What's happening in the Tampa Bay tech/entrepreneur/nerd scene list! I've been putting together this list since 2017 (next week is its third anniversary). My goal was simple: to give the Tampa Bay technology community a useful, convenient resource for finding tech, entrepreneur, and nerd events. I watched as regular techie get-togethers helped grow the scenes in my former homes of Toronto and Silicon Valley, and I believe that bringing together the bright lights of Tampa Bay will do the same here.
Upcoming events
Tampa Bay Innovation Center's Entrepreneur & Investment Challenge is a 12-week cohort-based high-impact accelerator for pre-seed startups in the Tampa Bay area. You'll have to put in some time and effort, but it's free, and it could really pay off. If you want to take part, you'll need to apply by March 22.
The next LinkedIn Local happens on Thursday, March 26 at Cask Social Kitchen, and proceeds from the $10 – 15 registration fee will go to The Helen Gordon Davis Centre for Women.
The next Tential Tuesday happens on March 31st at Zydeco Brew Works in Ybor City, and the topic will be Digital Transformation in Tampa Bay. Register now, so they can plan accordingly.
Ignite Tampa Bay is just over five weeks away! If you'd like to speak, follow this link; if you'd like to sponsor, this link is yours. There are volunteer opportunities here, and if you'd rather just watch, tickets are here. Save the date: Thursday, April 16th at the Palladium Theater in St. Pete!
This week's events
Monday, March 9
Tuesday, March 10
Wednesday, March 11
Thursday, March 12
Friday, March 13
Saturday, March 14
Sunday, March 15
Join the mailing list!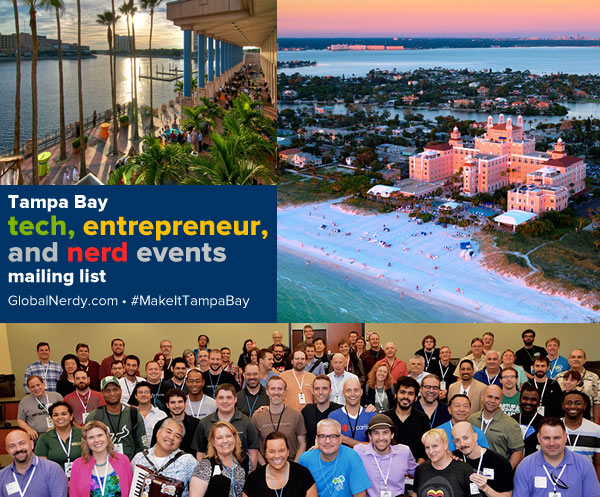 If you'd like to get this list in your email inbox every week, enter your email address below. You'll only be emailed once a week, and the email will contain this list, plus links to any interesting news, upcoming events, and tech articles.
Join the Tampa Bay Tech Events list and always be informed of what's coming up in Tampa Bay!