What the Internet is For
Before I begin, here's a quick reminder of what the Internet is for…
and it seems to be true all over the world. Don't take my word for it; here's the Israeli production of Avenue Q saying the same thing, but in Hebrew:
Now that you've been told what the internet is for — by both an actual internet professional (that would be me) and a big Broadway stage production, no less – we can continue.
Silverlight and Playboy
If you ever get the chance, I highly recommend browsing through Playboy. Not the issues from this era or maybe even the past 20 or so years, but the Playboy of earlier times; the Playboy that dispensed the best advice on which hi-fi system to buy, provided good cocktail recipes, had great articles and interviews and featured the works of all sorts of writers, including John Updike, Stanley Elkin, Kurt Vonnegut, Saul Bellow, Joyce Carol Oates and Margaret Atwood.
You can do just that right now, thanks to the Playboy Archive, where 53 issues from Playboys past, spanning the time period from 1954 to 2005 are available for your reading pleasure, online and free of charge. The issues were scanned in at high resolution and placed into a Silverlight-powered browsing interface, as shown below:
The Best Damn Use for Deep Zoom, Ever!
The Playboy Archive takes advantage of Silverlight's Deep Zoom feature, which combines using images at different levels of magnification and smooth animation to allow for a "zoom in/zoom out" effects. Most demos of this feature cover something boring like maps or paintings by the Old Masters; I think Playboy's application of Deep Zoom to look at ladies without pants is far more entertaining.
Let's take a relatively-safe-for-work look, shall we? I'm going to show you the September 1962 issue, whose centerfold is so tame by today's standards that the skin lotion ads on the Toronto subway are far racier in comparison.
Here's a reduced version of the first zoom level of the issue, showing you about a dozen pages at a time: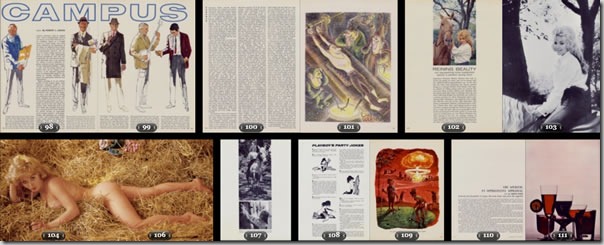 If I were to click on a specific pair of pages, let's say the centerfold, I'd get the level 2 zoom, a reduced version of which is shown below:
Oh, the hayloft! How I love the hayloft! But I digress.
A subsequent click yields zoom level 3:
And finally, because her brown eyes are very compelling, I think I'll click once more to get zoom level 4.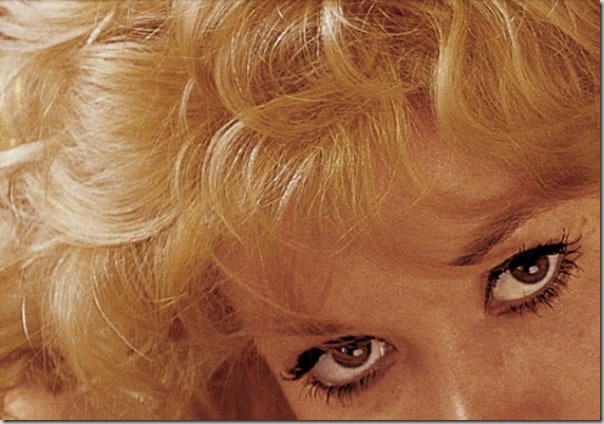 Remember, these screen captures were reduced to fit this blog's format. The actual screen images are larger!
But What if You Read Playboy for the Articles?
"I read it for the articles!" used to be the classic justification for reading Playboy. It also was true, at least in part – Playboy often got interviews with people that more "mainstream" and "respectable" publications would never have a hope of or even think of getting. The Playboy Archive features an interview with Jawaharlal Nehru (India's first Prime Minister, and you know, the jacket guy!) from the October 1963 issue:
and as with the centerfolds or any other parts of the magazines featured in the Playboy Archive, the Nehru interview can be viewed in Deep Zoom: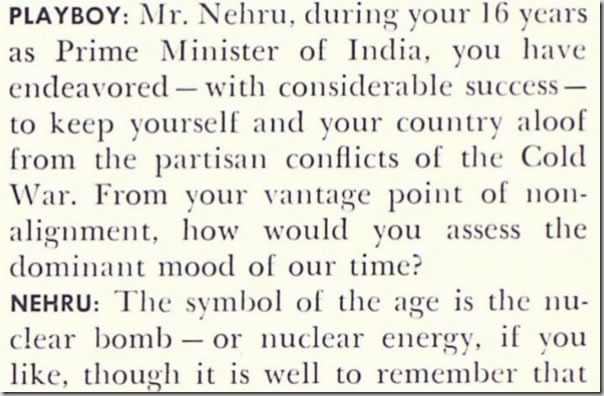 Think of it as a bonus treat if you can't find your glasses or if you wanted to examine early 1960s typographic and kerning techniques.
What are just as fascinating as the articles – if not more fascinating sometimes – are the ads, especially the Mad Men-esque ones from the late 50s and early 60s, Like the creations of Sterling Cooper, they were quite reliant on the text to evoke images in the reader's mind. Consider this ad for London Fog overcoats:
…and here's a close-up look at the text, courtesy of Deep Zoom: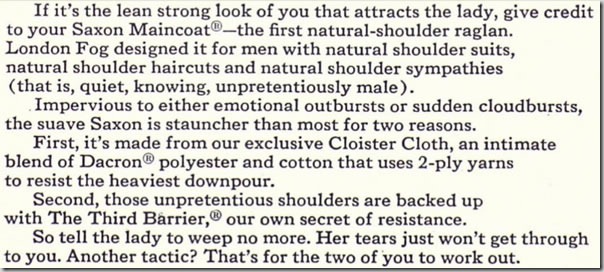 It's as if Don Draper himself wrote that copy!
But enough of this eruditon. Let's get back to the porn, shall we?
Internet Explorer 8 and its Excellent "Porn Mode"
You may have heard that Internet Explorer 8, the latest version of Microsoft's browser, was released this week. If you're using Internet Explorer 7 or worse, Internet Explorer 6, ditch them now. Internet Explorer 8 is a much better, more compatible browser that shows signs of Microsoft's increasing willingness to play well with others.
Internet Explorer 8 (which I'll refer to as IE8) features what we in the industry like to refer to as "porn mode". Porn mode, simply put, is a slightly different mode of operation in which the browser doesn't keep any record of your browsing history. As long as you use it when browsing sites like YouPorn, your browser won't keep showing "YouPorn" as a possible choice when someone else hops on your computer and tries to access YouTube.
Activating Porn Mode in IE8 is easy. From the Safety menu (located near the upper right-hand corner of the window), select InPrivate Browsing (that's the socially acceptable name for Porn Mode), as shown below: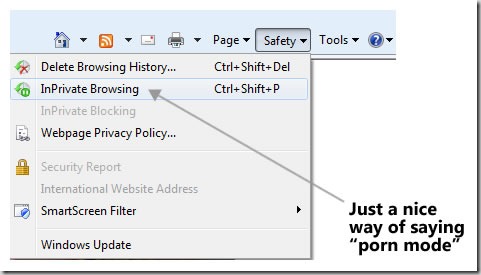 You'll get a new browsing window with all sorts of anonymizing features, including not saving the names and locations of sites you visit in your browser's history!
While IE8 isn't the first browser to feature Porn Mode, it very clearly tells you when you're in Porn Mode and when you're not. Here's what the address bar looks like in regular mode:

And when in Porn Mode, it's quite clear via both the title and the big blue "InPrivate" indicator in the address bar:

Having these explicit cues telling you when the browser is and isn't in Porn Mode is going to be a lifesaver, believe you me.
Combine Them!
If you combine the Playboy Archive's excellent application of Silverlight with the cover-your-tracks feature of IE8's Porn Mode…well, I think that's an exercise that I'm going to leave to you, Gentle Reader. I hope you have fun out there on the 'net, and never let it be said that The Empire didn't do nuthin' for ya!
How Do I Get This Wonderful Stuff?
You didn't think I'd leave you high and dry and not tell you how to get Silverlight and Internet Explorer 8, did you?
{ 4 comments }