Hello, and welcome to another installment of the weekly What's happening in the Tampa Bay tech/entrepreneur/nerd scene list! I've been putting together this list since 2017, and my goal was to give the Tampa Bay technology community a useful, convenient resource for finding tech, entrepreneur, and nerd events. Just as regular get-togethers of techies helped grow the scenes in my former homes of Toronto and Silicon Valley, I believe that bringing together the bright lights of Tampa Bay will help bring about the "Silicon Suncoast".
Here are the coming week's events…
Monday, March 2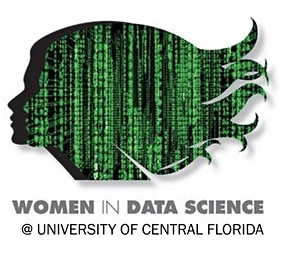 If you've got Monday free and can make the drive to Orlando, you might want to check out Women in Data Science — a UCF gathering whose goals are to inspire and educate data scientists worldwide, regardless of gender, and support women in the field. It's an annual one-day technical conference covering the latest data science-related research and applications. There's no risk of a "manel" here — all the speakers are female. All genders are invited to participate in the conference.
Tuesday, March 3
If you hear the phrase "board game" and think of tripe like Monopoly or Sorry, you've been away from them too long. We now live in the golden age of board games, a era where they've gone well beyond the old "be the first person to make it to the finish line" paradigm and reached levels of sophistication normally reserved for computer games. If you're looking for something different to do on Tuesday night, you might want to check out the board game nights in Brandon and St. Pete.
Wednesday, March 4
The topic at Wednesday's Tampa Android Developers Group meetup is Android Google Maps. It'll be a walkthrough of the Advanced Android in Kotlin 04.1: Android Google Maps codelab produced by Google. It's in Kotlin — which you should learn if you want to do native Android programming (if you have a grasp of Java or any other object-oriented programming language, you'll understand Kotlin). Bring a laptop with Android Studio 3.5 or higher!
Thursday, March 5
WITI's (Women in Technology International) Geek Glam will be a great night out for a great cause! It'll have a fashion show featuring models you'll recognize from our local tech scene, a pop-up market, door prizes, and a silent auction whose proceeds will go towards scholarships for women in tech. It happens on Thursday at 5:30 p.m. at the Tampa River Center.
Friday, March 6
If you haven't yet been to Café con Tampa, you're missing out on the best weekly community event in the area. Every week, they bring a compelling speaker to talk about an interesting (and often important) topic at the Commerce Club in Oxford Exchange. For $12, you get a breakfast buffet featuring Tampa Bay's best breakfast sandwiches, a great presentation, and the change to meet with some of the area's movers and shakers.
This Friday's Café con Tampa should be a great one — the guest speaker is Roberto Torres, founder of the Blind Tiger Café, who just opened a branch at Embarc Collective. He'll talk about a pet topic of mine: Tampa Bay as a place in which to live, work, and play. I'll be there, and I'd love to see you there as well, representing the Tampa tech community!
Saturday, March 7
Sunday, March 8
Do you have an upcoming event that you'd like to see on this list?
If you know of an upcoming event that you think should appear on this list, please let me know!
Join the mailing list!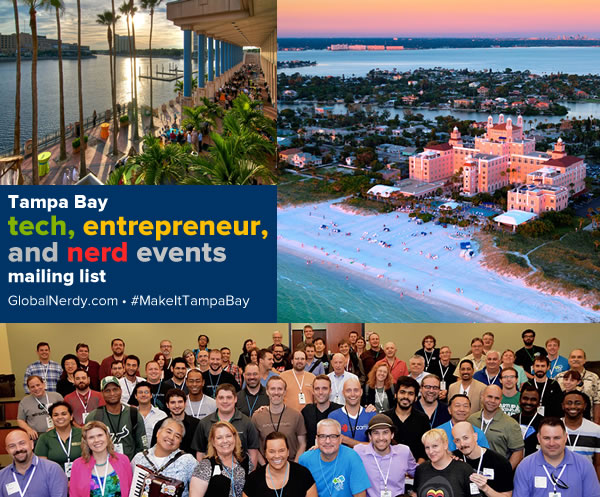 If you'd like to get this list in your email inbox every week, enter your email address below. You'll only be emailed once a week, and the email will contain this list, plus links to any interesting news, upcoming events, and tech articles.
Join the Tampa Bay Tech Events list and always be informed of what's coming up in Tampa Bay!