For the past couple of years, we've held TechDays Vancouver at Vancouver Convention Centre's East Building, but this year, we got to hold it at the brand new West Building. If you followed the Olympics, you might have caught a glimpse of it in the coverage; it served as the media centre during the event.
The place is huge, covering 111,000 square metres (about 1.2 million square feet). The building and surrounding walkways cover a total project area of 57,000 square metres (14 acres) over land and 32,000 square metres (8 acres) over water. The indoor carpeting is colour-coded brown in those parts that are over land and blue over those parts that are over water.
The building is one of the greenest convention centres in the world. Among its certifications and designations are:
The building is topped with a 24,000 square metre (6 acres) "green roof" – the largest one in Canada and the largest non-industrial one in North America – housing 400,000 native plants and 60,000 bees. Irrigation for the roof is provided by treating the "blackwater" from the building.
There's a great "log cabin" smell to the place as soon as you walk in. It comes from the walls, which are made of wood from trees that have fallen on their own rather than ones that were felled. Photos don't do it justice:
The place is huge. There were city block-esque distances to cover between the farthest rooms. This isn't necessarily a bad thing – programming is a sedentary job, and a little moving around is probably just what the doctor ordered.
Being by the water, there are some great views that most cities' convention centres simply can't offer:
And hey, mountains and ocean make a great backdrop against which to play Kinect games on the Xbox 360!
While we nerds are famous for enjoying the great indoors, it would be a waste not to enjoy the promenades surrounding the centre, with their views of the scenery and a piece of outdoor art named Digital Orca, the pixelated killer whale statue just outside the Centre:
Believe it or not, you might be familiar with some of the other work done by the artist behind Digital Orca – it's Douglas Coupland, who in addition to doing industrial design, fashion design and sculpting, is also a writer. You might have heard or even read his stuff: Generation X, Microserfs, JPod, and many other books.
Looking past Digital Orca to the northwest, you get this view:
And looking south towards the city, you see this:
Here's a view from the second floor windows facing north – a lovely thing to see during a between-session break: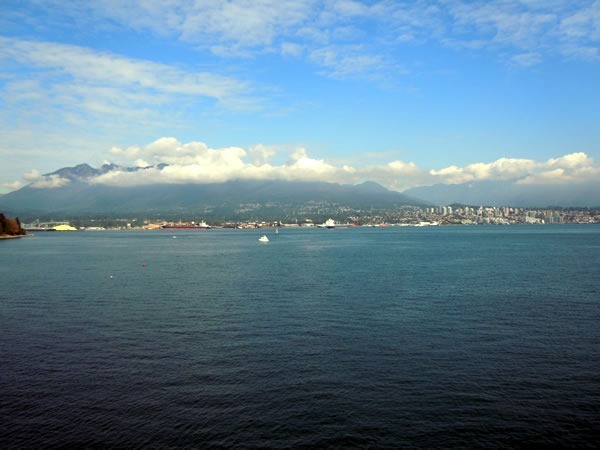 Turn your gaze slightly to the left and you'll see this:
Take a closer look at that island on the left: it's a Chevron station. I was half-tempted to swim up to it and ask to use their bathroom:
The sessions were programmers were in rooms on the second floor, opposite windows that faced east and provided a view of the Vancouver Convention Centre's East Building. It's where the Pan Pacific Hotel is and where the cruise ships are moored. On Day 1, we were treated to a view of a Princess Cruises ship – yes, that's "Princess" as in Love Boat:
On Day 2, we saw a Holland America ship set sail:
All in all, I enjoyed working in and looking out of our first TechDays venue of the year.