Can't see the video? You can download and install Silverlight or download the video in MP4, MP3, WMA, WMV, WMV (High) or Zune formats.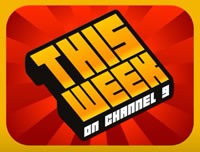 Once again, it's time for another installment of This Week on Channel 9 (or TWC9 for short), Microsoft's regular video webcast featuring Dan Fernandez and Brian Keller, who provide entertaining and informative coverage of the news of the week for the .NET developer community.
In this episode, Dan and Brian cover:
The episode also features Dan's and Brian's picks of the week:
Dan had two picks this week:

The Archivist: An application that lets you save and store Tweets over time for later analysis, tracking, review, whatever! And it's open source!

Brian's pick: Visual Studio 2010 RTM Virtual Machine with Sample Data & Hands-on Labs
This article also appears in Canadian Developer Connection.