Last night, TechCrunch came to town and invited 1,000 people to come and mingle at the Steam Whistle Brewery. My cofounder Jesse Singh, the Lady Friend and I attended the event, which was packed solid. Even with 1,000 free tickets available, there were still a large number of people waitlisted.
The photo above shows the party floor as things were winding down. At the start of the party, the place was packed solid, with local tech startup people watching demos put on by startups who managed to pull together the $1,500 sponsor fee, catching up with each other and trying to meet new co-founders, collaborators, funders and employees.
A good number of the Usual Suspects were there, including Rannie "Photojunkie" Turingan and Rob Tyrie, pictured above. Also present were some of my former colleagues at Shopify, including Blair Beckwith, Brian Alkerton and Mark Hayes, Shoplocket co-founders Katherine Hague and Andrew Louis, Anna Starasts from Grossman Dorland, James Woods from Shifthub (I worked with him at Tucows, along with Greg Frank, who was also there), Julie Tyios (who I cracked up with my Ford Canada interview), Vahid Jozi (whom I met while in Ottawa), Austin Ziegler, Jon from Venio, Rohan "Silver Fox" Jayasekara, John Gauthier and Jean-Luc David, to name a few. Special out-of-town mention has to go to Greg "Gregarious" Narain.
My moment of the evening: when John Biggs, TechCrunch's East Coast Editor saw me and asked "Is that the Accordion Guy?" It turns out that's he's been a reader of The Adventures of Accordion Guy in the 21st Century for some time! I've been following his stuff since he was Editor-in-Chief at Gizmodo, so the recognition made me feel like a rock star — a very nice birthday present!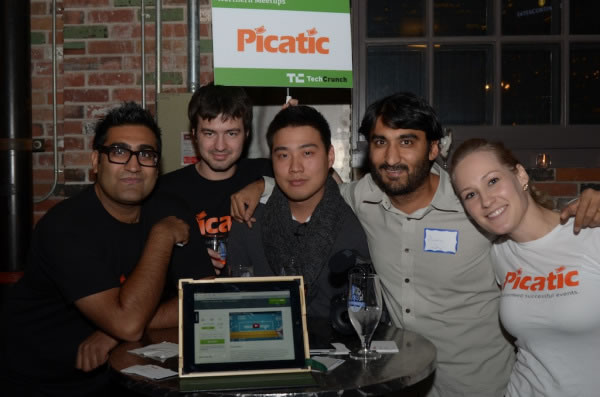 Events like this are good for our local startup ecosystem. The chance meetings and exchange of ideas at shindigs like this have led to all sorts of things: friendships, collaborations, partnerships, employment and even getting some funding, but most importantly, they lend that sense of cohesiveness necessary to creating an environment where little businesses built on big ideas can thrive. My thanks to the folks at TechCrunch, the sponsors and all who came for making this event a fun and productive one!
You can read the TechCrunch summary of the event here.
This article also appears in The Adventures of Accordion Guy in the 21st Century.