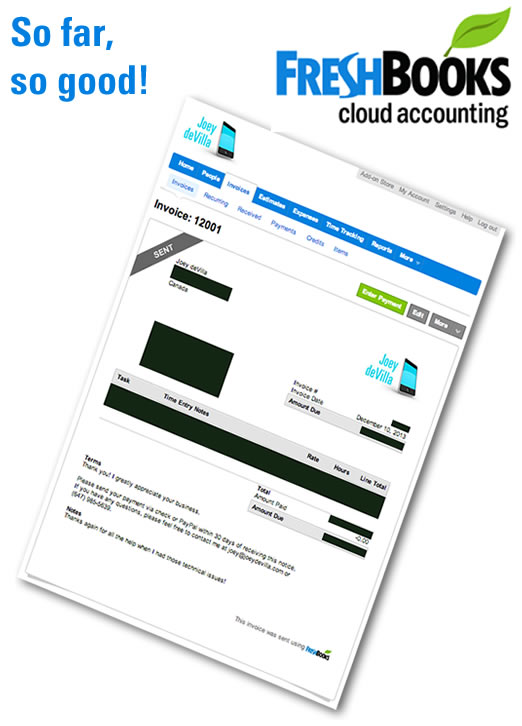 Strangely enough, I haven't had much need to crank out invoices and do other accounting, billing, and similar tasks until now. I've either worked with a company who had someone do that for me, or I've worked with a partner who's handled the paper-pushing. Now that I'm doing the lone wolf consulting thing — and let me tell you, the boss is an effing genius — I'm in the process of evaluating make-your-life-easier business admin tools.
I've decided to try out FreshBooks first. I know the people — a good number of them personally — I know many of their satisfied customers, and hey, they're just down the street from me. I notice that they've changed mottos from "painless billing" to "cloud accounting". Right now, I need a simple invoicing system, but as things progress, I'll dip my toe into their accounting features.
So far, my experience has been pleasant — the sign-up process threw as few obstacles as possible in my path, the short, sweet, and useful "How to make your first invoice" video was everything it should be and nothing more, and I've sent my first couple of invoices without a hitch. I logged in, got my stuff done, got out, and went back to what it is I'm paid to do without a hassle. That's exactly what I want from this sort of service, and FreshBooks has delivered. Well done, folks.