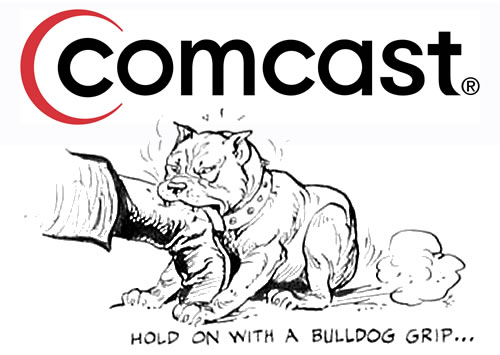 What started as gdgt founder and former Engadget editor Ryan Block's attempt to cancel his Comcast service turned into a maddeningly excruciating and even Monty Python-esque back-and-forth with a tenacious support rep who stuck to his script and hemmed, hawed, evangelized, and did everything he could to get Block to cancel the cancellation. Realizing after about ten minutes that he was in for a long phone call, Block had the presence of mind to record the conversation. Here's the recording, which captures the last 8 minutes and 14 seconds of the opera of obstruction:
Here's how Block annotated the recording:
Please note: this conversation starts about 10 minutes in — by this point my wife and I are both completely flustered by the oppressiveness of the rep.

So! Last week my wife called to disconnect our service with Comcast after we switched to another provider (Astound). We were transferred to cancellations (aka "customer retention").

The representative (name redacted) continued aggressively repeating his questions, despite the answers given, to the point where my wife became so visibly upset she handed me the phone. Overhearing the conversation, I knew this would not be very fun.

What I did not know is how oppressive this conversation would be. Within just a few minutes the representative had gotten so condescending and unhelpful I felt compelled to record the speakerphone conversation on my other phone.

This recording picks up roughly 10 minutes into the call, whereby she and I have already played along and given a myriad of reasons and explanations as to why we are canceling (which is why I simply stopped answering the rep's repeated question — it was clear the only sufficient answer was "Okay, please don't disconnect our service after all.").

Please forgive the echoing and ratcheting sound, I was screwing together some speaker wires in an empty living room!
I'm impressed at the fact that Block stayed calm through the exchange. The stubbornness that the support guy shows is enough to make you want to reach through the phone lines and throttle him, and after this audio posting went viral, Comcast have announced that they're looking into the matter:
COMCAST STATEMENT REGARDING CUSTOMER SERVICE CALL

We are very embarrassed by the way our employee spoke with Mr. Block and are contacting him to personally apologize. The way in which our representative communicated with him is unacceptable and not consistent with how we train our customer service representatives. We are investigating this situation and will take quick action. While the overwhelming majority of our employees work very hard to do the right thing every day, we are using this very unfortunate experience to reinforce how important it is to always treat our customers with the utmost respect.
Having worked at organizations that have been incredibly wrong-headed about metrics and their use, I know where the service rep's tenacity is coming from. In this job market, and especially as a phone service rep — where you're recorded for "quality purposes" — you don't risk losing your job by engaging in unsanctioned behavior, and you don't go off-script. His behavior is extreme, but when you look at what he's paid to do, he's merely following the directive he was given: to retain customers. There's likely a culture, if not a bonus, that promotes this behavior within Comcasts's CSR pool.
Listen to the call a couple of times, and you'll notice the bag of verbal and psychological tricks that the service rep uses: repetition, deflection, harnessing loss aversion, bait-and-switch. The skill with which he obstructed Block is impressive; I'd be willing to be that prior to the recording of his call going viral, he was actually hailed as an example and "hero" to his fellow phone-drones in the service rep pool.
If he loses his job at Comcast, he could parley the recording into a job opportunity at a brokerage and position himself as a salesman like the one Vin Diesel plays in this scene from Boiler Room: