Can't see the video? You can download and install Silverlight or download the video in iPod, MP3, WMA, WMV, WMV (High) or Zune formats.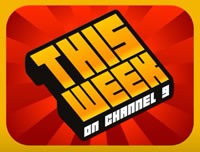 Another week, another This Week on Channel 9 (TWC9), Microsoft's regular webcast showing the past week's highlight on Channel 9, where Microsofties talk about what they're working on or what they're thinking, unfiltered by the marketing or PR departments. Regular co-host Dan Fernandez is joined this week by Larry Larsen as they talk about:
The co-hosts' picks of the week are:
This article also appears in Canadian Developer Connection.
{ 0 comments }