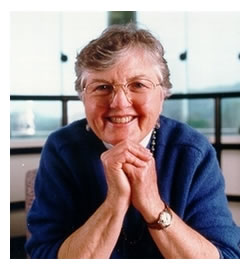 For me, one of the lines that really stood out in Neal Stephenson's Snow Crash was the narrator's remark on sexism in computer science. In the novel, the hackers of the exclusive online hangout, The Black Sun, had dismissed a female programmer's work as relatively unimportant, an act which was summarized this way:
It was, of course, nothing more than sexism, the especially virulent type espoused by male techies who sincerely believe that they are too smart to be sexists.
If the techie attitude towards women in the early 21st century setting of Snow Crash — a world extrapolated from the technology and social mores of the late 1980s and early 1990s, where it wasn't unthinkable for a teenage girl to get a high-speed skateboard courier job — was bad, it must have been far worse when this year's A.M. Turing Award winner, Frances E. Allen, joined IBM back in 1957. Back then, IBM was being rather cutting-edge by encouraging women technologists to join the company with a brochure titled My Fair Ladies (pictured below).
Allen was given the award to honor her for her work at IBM on compiler optimization techniques. The work for which she is noted in described in this IBM article:
Widely recognized for her fundamental work on the theory of program optimization and of leading PTRAN (Parallel Translations) project, she is regarded as a pioneer in the field of optimizing compilers, which she explains as "translating the language a program is written in into language appropriate for the hardware…to best exploit the performance potential of that hardware." Allen's personal contribution has been developing underlying algorithms that are effective across many types of hardware and in diverse situations.
In addition to her work on compilers, Allen is also noted as being a mentor to many during her 45-year career at IBM, considering it part of her day-to-day work. Her work in mentoring is so notable that IBM established the Frances E. Allen Women in Technology Mentoring Award, of which she was first recipient in 2000.
This isn't Allen's "first woman to win this honor" moment, either; in 1989, she was the first woman to become an IBM Fellow. Other awards she has earned include Grace Hopper's Celebration of Women in Computing Award (as one of the most successful women in the computing field) and Ada Lovelace award for her "outstanding scientific and technical achievements and extraordinary service to the computing community through her accomplishments and contributions on behalf of women in computing."
We at Global Nerdy salute you, Ms. Frances Allen, with a filet mignon on a flaming sword!
Links