Tucows will be in Chicago at HostingCon 2007, which starts today (Monday, July 23rd) and runs until Wednesday, July 25th at Navy Pier. HostingCon bills itself as "the largest gathering of hosted services professionals in the world" and for more details about the conference, check our their conference program.
We'll be making our presence known there — I won't be there, but my coworkers Kim, Leona, Adam and Hasdeep will. Be sure to keep an eye out for squishy cows and…
Our Booth
We'll have a booth in the exhibitors' hall — booth 817, which is right beside the networking lounge. Feel free to come chat with us about our new Email Service, Premium Domains and other upcoming things from Tucows.
You can look for booth 817 on the official HostingCon map or use our slightly customized one below to find us: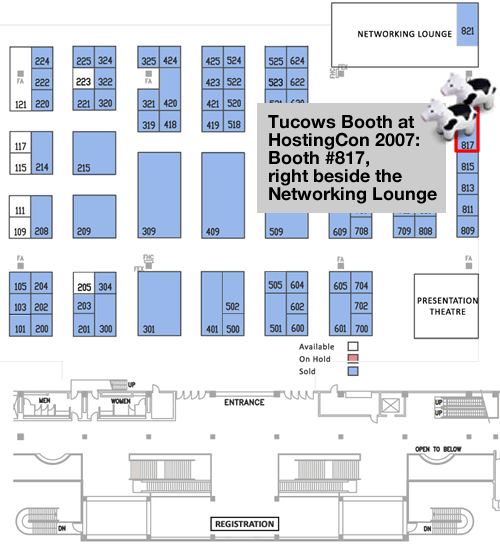 Our Session: Rethinking Domain Name Search
This Wednesday, July 25th, from 3:30 – 4:15 p.m. in room 109, Product Manager for Domains Adam Eisner will be making his presentation, Rethinking Domain Name Search.
Here's the description of his presentation:
With the rise of the domain name aftermarket, many expired names never return to the public for repurchase. This, combined with the fact most web hosting companies don't provide an effective domain name search feature on their website, results in many lost sales opportunities for domain names, web hosting, email and more.

This session will show web hosts how to "re-think" their website's domain name search strategy in response to market developments like better name suggestion technology, fewer available names, and the rise of the domain name aftermarket. The strategies outlined and demonstrated will help web hosts obtain tangible improvements in their domain name and web hosting sales.

Topics covered will include:

How to improve sales by improving your existing domain name search process (using tangible examples)
Maximizing the number of relevant results provided using name suggestion technology
Using domain name aftermarket to ensure customers receive the most relevant domain name availability results possible
Come on out and say hello!