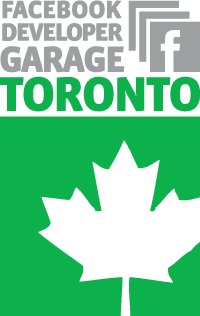 Click this logo to see the event's Facebook page.


Click this logo to see the event's wiki page.
It's the event so anticipated that it had to have more than one name. Whether you call it Facebook Developer Garage Toronto [this links to its Facebook page] or Facebook Camp Toronto [this links to its wiki page], so many Toronto-based developers have expressed an interest in attending that they had to change to a larger venue.
Originally scheduled to take place at No Regrets Cafe and Restaurant (home of a number of DemoCamp Toronto events), Facebook Garage/Camp will now take place at the MaRS Centre (101 College Street, Toronto, just east of Queen's Park subway station). The event takes place on Tuesday, August 7, 2007, formally starts at 6:30 p.m. and the schedule is listed below:
Facebook Garage/Camp Description and Schedule
Tuesday, August 7, 2007
Please join us to thrash out Facebook Platform: share ideas, troll for partners on your latest project, check out app demonstrations, seek developer support direct from Facebook Developers, or just socialize with people like you.

The Facebook Platform Team will give an introduction to Platform, discuss best practices around product design & viral marketing techniques, and hold a technical Q&A.

Please come ready to share, participate, and absorb new ideas along with other Facebook app developers.
6:00 – Social/Mingling
6:30 – Introduction by Colin Smillie Roy Pereira and Andrew Cherwenka
6:40 – Best Practices around Product Design and Viral Marketing (Meagan Marks, Facebook.com)
7:30 – Anatomy of a Facebook Application (Jay Goldman and Michael Glenn, Radiant Core)
7:50 – FBML Overview (Sunil Boodram, Trapeze Media)
8:10 – FQL Overview (Craig Saila)
8:30 – Updating the Facebook Profile (Colin Smillie, Refresh Partners)
8:50 – Demo: .Net Sample Application (Ricardo Covo)
9:00 – Demo: Carpool by Zimride (Rajat Suri)
9:10 – Demo: Ogrant by Shachin Ghelani
9:20 – Wrap-up and drinks
The event is free to the public, but they do request that you sign up for the event. The problem is that there are currently two sign-up rosters — one on the Facebook page and one on the wiki page. If you'd like to attend, I suggest that you sign up on both.