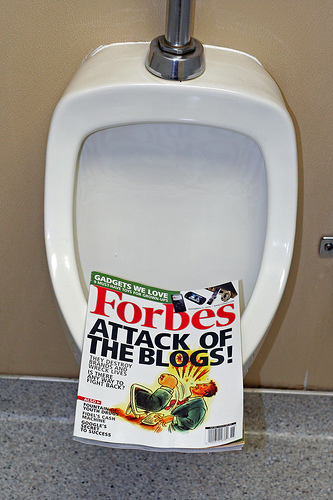 Forbes, dated November 14, 2005 with Daniel Lyons' Attack of the Blogs! screed.
Image by Niall Kennedy via Laughing Squid.
Those of you who hit Techmeme regularly know that the New York Times has outed "Fake Steve Jobs" of the popular blog The Secret Diary of Steve Jobs as Daniel Lyons of Forbes. Most of the conversation has been centred around things such as whether or not the blog will still be as good a read now that we know the man behind the pseudonym and now that it'll be published by Forbes, what the real Steve Jobs thought, how the clues were there (in hindsight) and on Lyon's upcoming book based on the blog: Options: The Secret Life of Steve Jobs, a Parody.
Precious few bytes have been devoted to a more interesting story: that Daniel Lyons is the author behind the inflammatory and calumnious Forbes cover story dated November 14, 2005: Attack of the Blogs. Valleywag mentions it in passing, but as far as I can tell from my scan of Techmeme stories, only Anil Dash has devoted any significant attention to it.
In case you forgot, the article opens with this gem:
Web logs are the prized platform of an online lynch mob spouting liberty but spewing lies, libel and invective. Their potent allies in this pursuit include Google and Yahoo.
…and goes on:
Some companies now use blogs as a weapon, unleashing swarms of critics on their rivals. "I'd say 50% to 60% of attacks are sponsored by competitors," says Bruce Fischman, a lawyer in Miami for targets of online abuse.
To borrow a line I once used at a Tucows meeting: "Those numbers smell like the ass they were pulled from."
Lyons also suggests these tactics in a "How to Fight Back" sidebar:
BASH BACK. If you get attacked, dig up dirt on your assailant and feed it to sympathetic bloggers. Discredit him.

ATTACK THE HOST. Find some copyrighted text that a blogger has lifted from your Web site and threaten to sue his Internet service provider under the Digital Millennium Copyright Act. That may prompt the ISP to shut him down.
In other words, use every trick in the "screw the customer" book. Hell, that "attack the host" tip is straight from the Church of Scientology's bag of dirty tricks.
By celebrating Dan Lyons/Fake Steve Jobs, who a mere two years ago pulled the biggest smear job on blogging and online discussion ever (as well as a strike against customers' rights), you're rewarding hypocrisy, slander profiteering and yellow journalism, some of the very things for which blogging, word of mouth and social networking were supposed to be an antidote. You're lining the pockets of the man and publication that only two years ago were working against you.
Recommended Reading