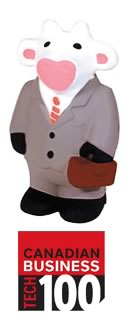 What's a blog for, if not to toot one's own horn, or at least the horn of the company for whom he is a spokesmodel?
Tucows, where I've worked for four years and where I hold the title of Technical Evangelist, is on Canadian Business' 2007 "Tech 100" List, their annual listing of Canada's 100 largest publicly traded companies. We're right by the median, ranked at number 49 on the "Performance" list.
I like to think that at least a little chunk of that was my doing.