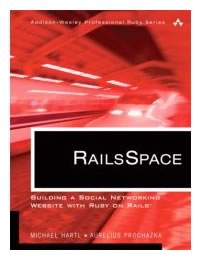 Today marks the start of my fourth week at TSOT, a Toronto-based startup that develops custom social networking software in Ruby on Rails. The company's first two products are FraternityLive and SororityLive, which as you might imagine are targeted at fraternities and sororities, with future plans for creating similar apps for other fields.
I was hired primarily for my tech evangelism cred and broad development experience (Visual Basic, Python, PHP, Director and Java from the rough-and-tumble Java 1.2 days) rather than for experience with Rails, on which I'd done only a little spare-time noodling. This means that a good chunk of my time during this first month on the job has been split between getting familiar with Rails as well as TSOT's apps.
Just before my first day at TSOT, I went down to Boston to join my in-laws for American Thanksgiving. While there, I decided to take advantage of the strong Canadian dollar and Thanksgiving weekend sales to do a little job-related book shopping. Although I had the PDF edition of Apress' Practical Rails Social Networking Sites, I was pleased to stumble across another book on building social networking apps in Rails: Addison Wesley's RailsSpace: Building a Social Networking Site with Ruby on Rails. I figured that if I find a book that covers the sort of development work that I'm about to start, I should buy it on the spot (after a quick skim of the book while in the store, of course).
Of all the books I've read on Rails development, this one's my current favourite. Yes, there'll always be a special place for Agile Web Development with Rails, but I have to say that I like the pacing, ordering of topics and the presentation of material in RailsSpace a little bit better. I like the way that authors Michael Hartl and Aurelius Prochazka take a slightly different approach to teaching Rails, from going with a social networking app rather than a "store" app to their clever visualization of Rails' directories as a pie chart, shown below: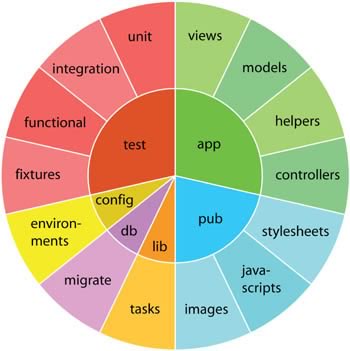 Graph adapted from RailsSpace
and borrowed from Weblog of Fernando Reig Matthies.
So take it from a guy who's paying his rent by working on Rails social networking apps: if you have some development experience under your belt and are looking to pick up Rails in a hurry (or if you're looking for a gift for someone who needs to learn Rails in a hurry) I recommend:
Picking up a book on Ruby (because you need solid Ruby fundamentals to really write good Rails code — I'll talk about my favourite Ruby books later)
Here's what other folks have to say about the book: