Farewell, Aaron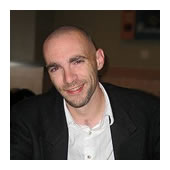 It's official: Aaron Brazell, the Director of Technology for b5media (where I hold the title of Nerd Wrangler), is leaving to pursue other projects. When he joined the company, it was a startup literally operating out of a garage and running on shared hosting. We're now a blog network of over 300 blogs with a total of 10 million unique pageviews per month. I've worked with him for a mere three weeks — and one of those was spent at the South by Southwest Interactive conference — but he's a solid guy, and his skills are evident in his work and the high regard in which he is held.
Here's an excerpt from his "farewell" post in his blog, Technosailor:
It's been a great ride, but now it's time to look forward and explore new territory. Recently, through my interactions with so many wonderful people in the DC technology community, the PodCamp community, the larger social media, business and technology communities, my appetite for something new and challenging has been overwhelming. I've had several conversations with Jeremy Wright, our CEO, over the past months exploring this stuff and he has been amazingly supportive, as has the rest of the b5media team.

An exact date has not been set, as I want to make sure a replacement is found and brought up to speed, however it will probably be within the next couple of months.
Hello…You?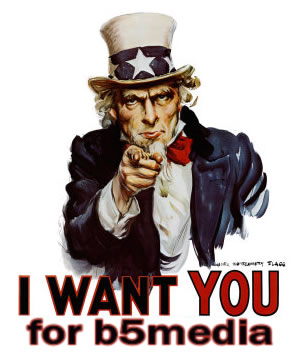 With Aaron's departure comes a job opening for a new Director of Technology. Could it be you?
Here are some points on the position:
You must either live in or be willing to relocate to Toronto. If you have to relocate, b5 will cover the relocation costs.
We're looking for an intermediate- to senior-level developer who's worked on customer-facing web applications and properties.
b5media is a startup, so you'd have to be comfortable working in a startup environment. We work hard, but we play hard too!
We're a blog network, so we need someone who's passionate about blogging.
You'll be leading a team of techies working both locally (in Toronto) as well as remotely.
Super-duper bonus: you'll also be working closely with me, as I'm the tech project manager!

Here's what Jeremy Wright, b5's CEO, has to say:
End of the day, we hire smart people who like to have fun and really want to build great stuff that tens of millions of people are going to see. The challenges for this year are significant, but so is the opportunity. In fact, by this time next year, this individual will be leading a team of 15-20 folk building some of the most widely used tools in the blogging world.
If you've got questions about the job or b5, feel free to email me, but I also strongly recommend that you also email Jeremy (after all, he's the CEO). We're looking to fill this position as quickly as possible — if you think you're our Director of Technology, let us know!