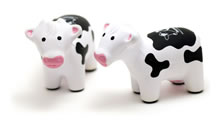 My old workplace, Tucows, is holding a job fair this Saturday here in Toronto. They're looking for customer service representatives and tech support analysts to join the herd. Tucows is a great palce to work — I worked there for four and a half years as their Technical Evangelist, racking up a lot of valuable experience working with great coworkers and customers.
The job fair takes place this Saturday, March 29th, from 9:30 a.m. to 12:30 p.m. at the Tucows offices at 96 Mowat Avenue (off King Street West, a block east of Dufferin). It's an opportunity to talk one-on-one with the customer service and tech support managers and find out more about the company, as well as a chance to tell them what you could bring to Tucows.
If you're planning to attend the job fair, be sure to read this article in the Tucows Blog that covers all sorts of topics, including:
What to bring
Tips on how to "ace" the job fair
A video featuring Sherry Azim, who's in charge of recruiting
A "top ten" list of reasons to join Tucows
If you're looking for a job at a successful tech company and you think you can fill a tech support or customer service rep role, go to the Tucows job fair this Saturday, and tell them Joey sent you!