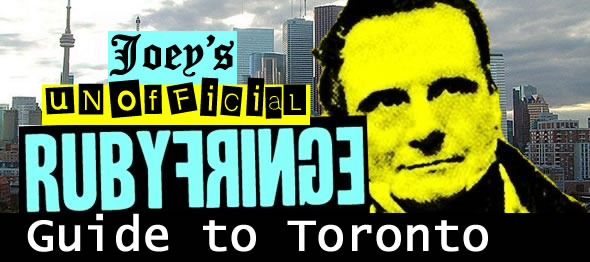 We're less than a month away from RubyFringe, the self-described "avant-garde conference for developers that are excited about emerging Ruby projects and technologies" being put on by my friends at Unspace. RubyFringe promises to be an offbeat conference organized by the offbeat people at Unspace, an offbeat software development shop, with offbeat speakers and MCs (I'm one of them) making some offbeat presentations, which will be followed by offbeat evening events. It stands to reason that it should come with an offbeat guide to its host city, and who better than Yours Truly, one of the city's most notorious bloggers and a long-time resident, to write one?
From now until RubyFringe, I'll be writing a series of articles posted under the banner of Joey's Unofficial RubyFringe Guide to Toronto, which will cover interesting things to do and see here in Accordion City. It'll mostly be dedicated to the areas in which RubyFringe and associated events will be taking place and provide useful information about Toronto for people who've never been here (or even Canada) before. I'll also try to cover some interesting stuff that the tourist books and sites don't. If you're coming up here — for RubyFringe or some other reason — I hope you'll find this guide useful.
I thought I'd start the series by covering a topic with which I have almost no familiarity: smoking. It's a safe bet that at least a few smokers will be coming to the conference from outside Ontario: if you're one of these people, this article's for you.
The Rules for Smoking in Ontario
If you really feel like poring over a legal document, you can read the Smoke-Free Ontario Act. If you'd rather not slog through the legalese, they can be boiled down to these two rules:
You have to be at least 19 years old to purchase cigrarettes.
No smoking indoors in public places.
Canadian Cigarette Brands
You're going to have to ask someone else about which Canadian brands to smoke. Beyond "quit now," I can't really make any recommendations. What I know about Canadian cigarettes versus American ones isn't much:
I am told that American cigarettes are "raunchier" than Canadian cigarettes. Can any cross-border smokers comment on this?
If you're really homesick for Marlboros, you can get "Rooftop" brand cigarettes, which are Marlboros with packaging that makes use of Marlboro's "rooftop" design but not the word "Marlboro". The cigarette marketing site Filter Tips explains these "no-name" Marlboros, if you're interested.
Canadian Cigarette Warning Labels
If you're a smoker coming in from the United States and don't travel outside the country much, you might not be aware that your country has the teeniest cigarette warning labels in the world, despite being the first to put warnings on cigarette packs in the first place.
Here in Canada, cigarettes have to devote half the visible surface of cigarette packaging to health warnings, which have livelier copy and are backed with pictures. Here are my two favourite warnings: first, the "mouth cancer" one…
…and the "trying to stick a marshmallow into a parking meter" one:
If you're going to ignore the warnings, you might as well be entertained by them, right?
Canadian Cigarette Displays
And finally, I'll come to the title of this post, Where Did All the Cigarettes Go?
If you set foot into a convenience store here, the first thing you'll notice after the bilingual packaging is that there are no cigarettes to be seen. What you might see is a blank wall behind the shopkeeper that is almost completely devoid of features or markings. It's a cigarette cabinet:

An Artcube cigarette cabinet.
This started only a couple of weeks ago in Ontario, when the law banning the open display of cigarettes in stores came into effect. This "out of sight, out of mind"-inspired law requires people who sell cigarettes to store them in featureless cabinets, and it seems that they're not allowed to post anything on them, even if it's not tobacco-related. If you wander into a convenience store and are wondering where the cancer sticks are, they're in the blank cabinets.