This Friday's Toronto Coffee and Code will take place at the Spadina branch of the Dark Horse Cafe, which opened just this week. The original Dark Horse Cafe, located in Accordion City's East End, is a much-loved, much-praised cafe known for friendly service, excellent coffee and tasty snacks. This second branch is larger and in a more central location: the Robertson Building  in the Queen/Spadina area, where Chinatown meets the warehouse district housing the city's tech startup and "Creative Class" crowds.
Here are the details:
What: Coffee and Code
When: Friday, April 17th from 11:00 a.m. to 6:00 p.m.
Where: Dark Horse Cafe, 215 Spadina Avenue (at Sullivan Street)
Here's a sneak peek at the newly-opened cafe. Here's the exterior:
…but inside, it's a big, bright and beautiful space. Here's the first thing you see when you walk in: their wide, welcoming coffee bar.
The cafe is split into two levels: a lower level at the front of the cafe and an upper level in the back. Here's a view of the lower level, as seen from the north end:
Rather than fill the lower level with many small tables, the folks at the Dark Horse decided to use two ginormous tables, each of which can accommodate a dozen people quite handily. Here's the square table at the north end of the room:
And here's the rectangular table at the south end:
A small staircase to the left of the coffee bar leads you to the upper level located in the back. It's more living room-like, with many small coffee tables and couches and chairs spread throughout: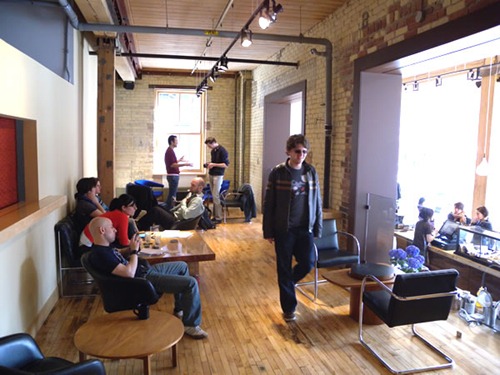 Here's a view of the coffee bar from the upper level:
Their selection was a bit limited on their first day: they didn't have chocolate for mochas, nor ice for iced coffees, and the panini presses still had the plastic wrap on them; that's all forgivable for the first couple of days. They did have an interesting-looking selection of pastries, and the peanut butter cream brownie I had was worth killing for (I suspect that the Ginger Ninja would absolutely love it).
It's a gorgeous place with a lot of promise; my only real complaint is that it wasn't around when I lived in the neighbourhood. I'm looking to hanging out there often.