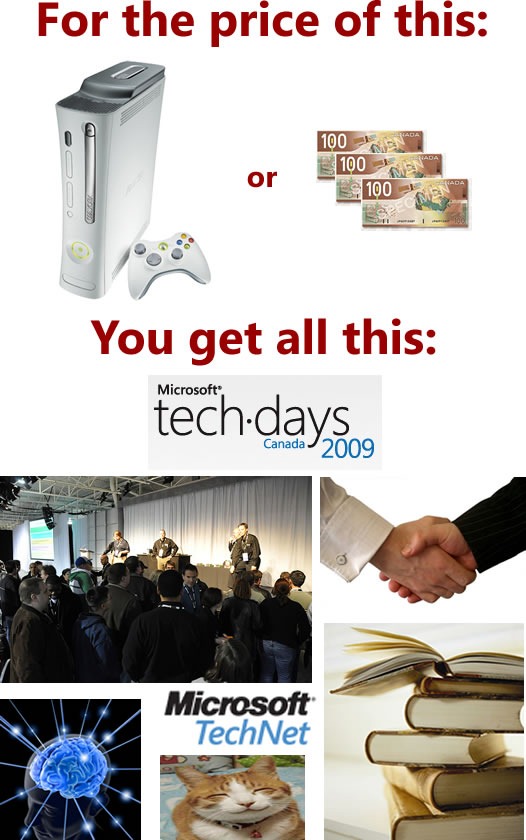 The Early Bird Price is Going Away Soon
The $299 early bird pricing for TechDays Canada 2009's Vancouver and Toronto stops will vanish after Monday, August 31st. From September 1st onward, if you want to catch TechDays in Vancouver (Monday, September 14th – Tuesday, September 15th) and Toronto (Tuesday, September 29th – Wednesday, September 30th), you'll have to pay the full price of $599. Why pay double when you don't have to?
The TechDays Formula
Continuing with this article's theme of using pictograms to explain things, here's TechDays in a nutshell, pictorial-style:
 We take presentation sessions that cover getting the most out of current and new Microsoft tools and technologies from big conferences like TechEd, which are typically held in a large city in the southern United States, at a large convention centre, near large hotels and will set you back a couple "large" for registration, transportation and accommodation. TechDays 2009 features over 40 sessions split into these tracks:
Developing for the Microsoft-Based Platform
Developer Fundamentals and Best Practices
Windows Client
Servers, Security and Management
Communications and Collaboration
We update that content where necessary and find local speakers to present it. We pick out speakers who are either well-versed in the session topic or who are simply bright techies with a thirst for knowledge, a knack for presenting and who have been meaning to get well-versed in that topic. Whenever possible, we try to get someone who lives in the area of the conference city, because TechDays isn't just about spreading knowledge; it's also about helping developers make connections with their peers nearby.
We also set up extra events and goodies. Attendees get a one-year subscription to TechNet, which alone is worth more than the price of the early bird registration and gets you access to all kinds of goodies including Windows 7. There's also all the content from the TechEd conference. You also get the learning kit DVD packed with goodies to help you get the most out of Microsoft's tools and tech. We're throwing in some discount codes for books. We'll also be announcing surprise events in your city – watch this space for details!
And last but not least, don't underestimate the job-and-employee-seeking opportunities that a gathering like TechDays provides. Events like TechDays are where opportunities happen!
All This for $299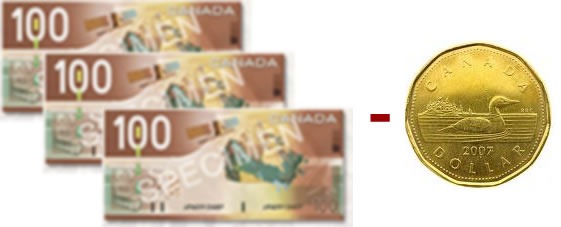 And don't forget, that's $299 Canadian, for content from conferences that cost 7 times as much. And with extra goodies such as a TechNet subscription (which costs more than the early bird fee and gets you Windows 7) thrown in. Plus a chance to meet up with your peers as well as us evangelists, whom you should think of as "your people on the inside". It's a great deal, and it's going away after next Monday, so sign up now!