TechDays Toronto Wraps Up
TechDays Toronto took place last Tuesday and Wednesday, and it was a success! Over 1200 people registered to attend, and based on the attendee comments I've received, both face-to-face and online, people found their experience there both valuable and enjoyable.
As much as we hope the attendees learn at TechDays, we learn a lot at TechDays too. By holding events where you get to meet us face-to-face and talk to us, we learn about what you need to boost your knowledge, skills and career. If you have any questions, comments, concerns or suggestions about TechDays, please let us know! Leave a note in the comments or feel free to drop me a line.
When Halifax got added to the cities in TechDays Canada's cross-country conference tour, there was some concern about how many people would register. It's the first time we've held a conference of this scale and scope in the Maritimes, but it turns out that we needn't have worried: as of Thursday, every available seat for TechDays Halifax's venue has been sold.
Thanks for being so enthusiastic, Halifax techies, and we look forward to putting on a worthy event!
TechDays Calgary, Montreal, Ottawa and Winnipeg Coming Up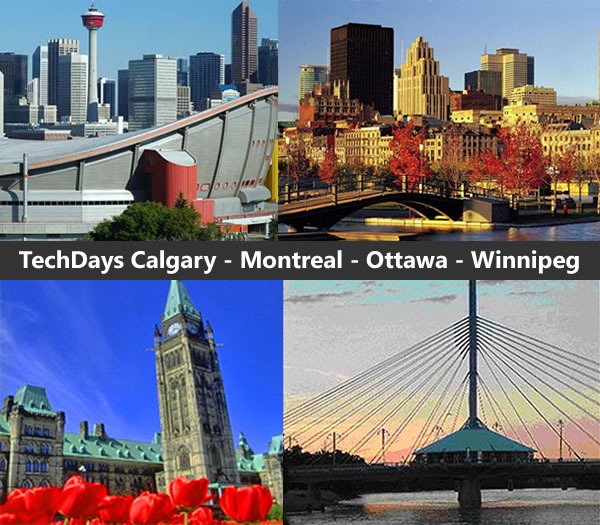 The early bird pricing – that's $299 Canadian – is still available for the other TechDays Canada cities:
Calgary (November 17-18)
Montreal (December 2-3)
Ottawa (December 9-10)
Winnipeg (December 15-16)
With over forty intermediate- to expert-level sessions covering Windows 7, SharePoint, ASP.NET MVC, SQL Server, Expression Blend, Windows Server 2008 R2, WCF, Visual Studio, Hyper-V, System Center, Silverlight and more, TechDays Canada is your chance to learn about how to make the most of the Microsoft tools and technologies that are available right now. Register today!