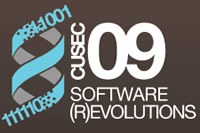 Microsoft was a sponsor of CUSEC last year – that's Canadian University Software Engineering Conference, the premier conference on building software aimed specifically at students. One of the perks of sponsorship was a "corporate speaker" slot, and it was decided that the presentation should be given it to the then-new guy…namely, me.
At the time I got slotted in as the speaker, I'd barely been a Microsoft employee for two months and was still feeling my way around both the company and its technology. By the time I would stand on the podium, I would have just passed my three-month probationary period. If I was going give a talk for forty-five minutes, it would have to be something other than "what it's like to work at The Empire".
Luckily, I did have something to talk about: a not-quite-normal career in tech, and the lessons I picked up along the way. The end result was a presentation titled Squeezeboxes, Start-Ups and Selling Out: A Tech Evangelist's Story (yes, it's a bombastic title, but it's the sort of thing you'd expect from a guy whose personal blog's name is The Adventures of Accordion Guy in the 21st Century.)
The presentation was scheduled for the end of Day 2 (it's a three-day conference), which is a challenge. The audience would be tired and being students, they were likely to be more focused on the big drinkfest that would take place that evening. I decided to go for "offbeat" and built my presentation around the abstract I gave to them, which was:
You'll spend anywhere from a third to half (or more) of your waking life at work, so why not enjoy it? That's the philosophy of Microsoft Developer Evangelist Joey deVilla, who's had fun while paying the rent. He'll talk about his career path, which includes coding in cafes, getting hired through your blog, learning Python at Burning Man, messy office romances, go-go dancing, leading an office coup against his manager, interviewing at a porn company and using his accordion to make a Microsoft Vice President run away in fear. There will be stories, career advice and yes, a rock and roll accordion number or two.
They recorded my session and unleashed it on the world yesterday. I share it with you below:
If you watched the video, you'll note that I skipped a couple of stories, namely "learning Python at Burning Man", "messy office romances", "go-go dancing" and making a Microsoft Vice President run away in fear. I'll save those for another presentation. (By the bye, the guy I made run away is a President now.)
I had a blast doing this presentation, and the general consensus of the attendees was that it was one of the highlights of the conference. I'm honoured that I was invited back to host DemoCamp, and look forward to chatting with everyone. See you in Montreal!
This article also appears in Canadian Developer Connection.