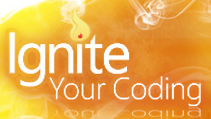 Every Thursday in March and April, my co-worker John Bristowe and I will host the Ignite Your Coding webcast series. Each hour-long webcast will feature a guest speaker selected from the bright lights in software development. John and I will start off by asking them about their views on the industry and how to thrive in an era of great technological, business and social change, and then it'll be your turn to ask the questions.
The theme of the webcast series is "staying on top of change". I can't deny hat there's a certain thrill to the changes in this still-very-new industry (remember, the formal definition of "computable" isn't even a hundred years old, and some of the pioneers, like C.A.R. Hoare, are still alive). They can also be overwhelming. All the guests on the show have ideas about how to cope with the ongoing changes, how to make the most of your career and life as a developer and intriguing stories about their life "in the trenches".
John and I started getting interviewees for the show by drafting a list of "dream guests" and then inviting them to speak. John's pretty well-established in the .NET world, so he went after people that Microsoft developers would know well. I've spent more time in the world outside Microsoft development, so I was assigned to invite people often seen in those spheres. We ended up with a great and varied set of guests, some you might have expected and some who might surprise you. We think that you'll enjoy the webcast and find it both entertaining and informative, whether you eat, breathe and sleep Visual Studio, dream in TextMate or stand on the front lines in the Emacs/vi holy war.
All you have to do to catch the live Ignite Your Coding webcasts is register for the ones you want (see below). We'll record them all, so if you can't catch the live shows, you can at least listen to them later.
Here are the guests and the dates:
Andy Hunt has been behind some of the biggest ideas in everyday software development in the past decade. From co-authoring the Agile Manifesto and The Pragmatic Programmer to starting The Pragmatic Bookshelf, one of the most influential developer book publishers, to helping bring about the rise of MVC web frameworks, chances are that he's had some influence on your day-to-day work. In this one-hour webcast, we'll talk with Andy about the ideas in his latest book, Pragmatic Thinking and Learning. We'll discuss why your brain is where software development really happens, how you can refactor your thinking and as he puts it, "just the plain old weirdness that is people".
Thursday, March 4, 2:00 p.m. – 3:00 p.m. EST (11:00 a.m. – 12:00 a.m. PST)
Register for this webcast (it's free!)
Glenn Block is an industry expert who has broad enterprise software development experience including architecture and system design. Typically, developers of client applications face a number of challenges. One of the more common challenges is to build applications in a way that allows its various parts & pieces to be interchanged quickly and seamlessly. In this conversation, Glenn Block will provide guidance on how to structure your applications in such a way that will facilitate this capability.
Thursday, March 11, 2:00 p.m. – 3:00 p.m. EST (11:00 a.m. – 12:00 a.m. PST)
Register for this webcast (it's free!)
Jeremy Miller is no stranger to the developer community of .NET. He is the author of StructureMap and the forthcoming StoryTeller, as well as being a major contributor to FubuMVC and Fluent NHibernate. In this one-hour webcast, we'll discuss a wide range of topics; including how newer OSS efforts in the developer community of .NET are trying to reduce friction, AAA-style mocking instead of record/replay mocking, the effective use extension methods for cleaner/readable/easier unit testing, jQuery magic, and much more!
Thursday, March 18, 2:00 p.m. – 3:00 p.m. EST (11:00 a.m. – 12:00 a.m. PST)
Register for this webcast (it's free!)
David Laribee is currently an Agile Coach at VersionOne. Technical debt refers to the costs associated with byzantine dependencies and sloppy code. Technical debt is a drag. It can kill productivity, making maintenance annoying, difficult, or, in some cases, impossible. In this one-hour webcast, David will provide us with some advice for "paying back technical debt" with agile techniques.
Thursday, March 25, 2:00 p.m. – 3:00 p.m. EST (11:00 a.m. – 12:00 a.m. PST)
Register for this webcast (it's free!)

Richard Campbell knows a thing or two about scalability and performance, having designed and built applications for over 30 years with a number of leading North American organizations. He's also taken that knowledge and applied it at his company Strangeloop, which builds an appliance that specializes in website acceleration. In this webcast, Richard will help us navigate the world of scalability and performance and how developers need to think differently when building applications for the future.
Thursday, April 8, 2:00 p.m. – 3:00 p.m. EST, (11:00 a.m. – 12:00 a.m. PST)
Register for this webcast (it's free!)
Scott Hanselman is a household name to nearly every developer of .NET worldwide. From his deeply-informative blog to his engaging podcast, Scott is well known for his expertise and insights that he shares willingly with the broader community of .NET. In this webcast, we'll talk to Scott about the state of the developer nation of .NET; a "what's hot and what's not" with developers of .NET today. We'll also chat with Scott about his role at Microsoft and tips on staying on top of your game as a developer in the industry today.
Thursday, April 15, 2:00 p.m. – 3:00 p.m. EST (11:00 a.m. – 12:00 a.m. PST)
Register for this webcast (it's free!)
Jeff Atwood writes the popular developer blog Coding Horror, created and helps run the Stack Overflow and Server Fault and SuperUser community Q&A sites and co-hosts the Stack Overflow podcast with Joel "Joel on Software" Spolsky. With a schedule like this and a one-year-old, he somehow stills finds the time to keep his Rock Band skills finely honed. Join us as we chat with Jeff in a one-hour webcast where we talk about the Stack Overflow phenomenon, how Coding Horror grew to become one of the most-read developer blogs and career strategies in the post-desktop age.
Thursday, April 22, 2:00 p.m. – 3:00 p.m. EST (11:00 a.m. – 12:00 a.m. PST)
Register for this webcast (it's free!)
His business card may say "Robert C. Martin", founder and CEO of the Object Mentor consulting firm, but we know and love him as "Uncle Bob". He's been coding since the Beatles broke up, and in that four-decade span, he literally wrote the books on agile and extreme programming as well as the letters UML, OOP and C++. Throughout the industry, he's known as a champion of proper design, test-driven development and just plain writing good code. We'll chat with Uncle Bob in this one-hour webcast, where we'll talk about software craftsmanship, why it takes work and why it matters.
Thursday, April 29, 2:00 p.m. – 3:00 p.m. EST (11:00 a.m. – 12:00 a.m. PST)
Register for this webcast (it's free!)
To find out more about the Ignite Your Coding webcast series, visit the Ignite Your Coding page.