Last week, John Bristowe and I interviewed Jeremy Miller — "the Shade Tree Developer" – in a live Ignite Your Coding webcast. Jeremy holds the title of Chief Software Architect at Dovetail Software, Austin's coolest ISV, and we talked about open source in the .NET world, StoryTeller, dependency injection and many other topics.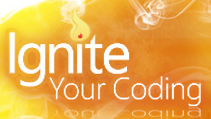 In case you were wondering what Ignite Your Coding is all about: It's all about helping you, the software developer, find ways to stay on top of the technological, economic and social changes that affect you and your work every day. We got our hands on some of the biggest thinkers and doers in our field and asked them if they'd like to chat about the industry, how they got started, where they see the opportunities are, how they deal with change and how to be generally awesome. We got some big names from the Microsoft/.NET world, but we also went farther afield and got some people from beyond that world as well, because a different perspective is often helpful.
The recording of our webcast with Jeremy (which took place on March 18th, 2010) is linked below, and we'll set up RSS, Zune and iTunes feeds shortly.
Direct Download: