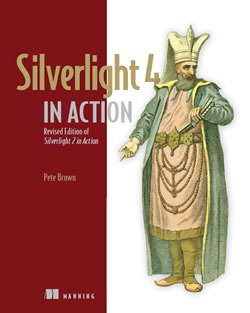 Today only (Friday, September 10, 2010), you can get either a PDF or dead-tree edition of Silverlight 4 in Action for half price! Just enter the discount code dotd0910 in the promotional code box when you check out at Manning Publications' online store.
Here's the publisher's description of the book:
Silverlight gives you entirely new ways to create rich internet applications, and now Silverlight 4 adds many powerful enhancements to the mix.

Silverlight 4 in Action is a comprehensive guide to application building using C#. It goes into action immediately in a thorough introduction. It then follows up with numerous nifty examples to explore flexible layout, control extensibility, the communication and binding models, rich media, animation, and much more.

This book explores practical questions in patterns, testing, and performance optimization throughout. No previous experience with Silverlight is required.
Remember, it's half price just for today! With the discount, the ebook edition becomes USD$14.99 and the paper book version (which also gives you the ebook edition) drops to USD$24.99.