The day started with Rick Claus's introductory announcements in the breakfast/lunch room…
As attendees lined up to register and get their bags o' swag:
"And don't forget to get a look at the new Windows Phone," said Rick, "except for that one phone I broke."
"You've got ten minutes of breakfast left, and then the session start. Go get those muffins!"
Down the hall, Rob Burke of Infusion locks and loads for his session on Real-World Patterns for Cloud Computing in the "Optimizing the Development Process" track:
And we're off! Here's Rob getting off to a good start with his session…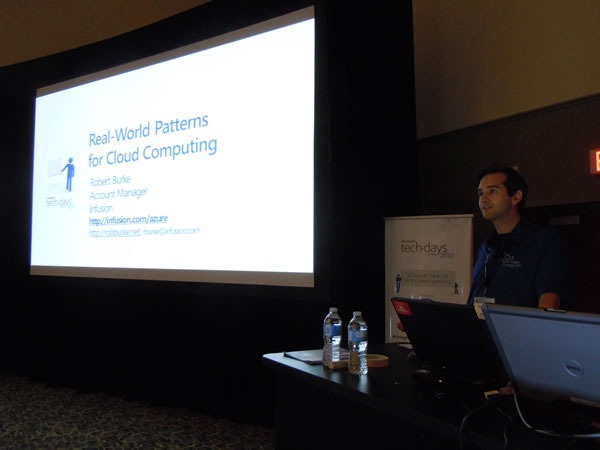 …as the Ottawa crowd settles in to have "some serious cloud science dropped on 'em".
Meanwhile, in the "Developing for Three Screens and the Cloud" track, Colin Melia, Silverlight MVP and the guy behind Ace of Clouds, gives his audience the skinny of getting effective with Silverlight in short order…
…but he's never to busy to mug for the camera. Nice smile, Colin!