Expansys
There may come a time when you, as a mobile developer, need to get your hands on phone specifically for development purposes. After all, emulators, while handy, can get you only so far, and there are a good number of reasons that your everyday phone – even though it's the platform you're targeting – might not be the right thing to use.
I needed such a phone, and for mine, I turned to Expansys. If you've ever been to one of the major Microsoft conferences such as PDC or TechEd, you might have seen their booth. They're the guys with all the intriguing-looking hand-held goodies. In my first few weeks at Microsoft (back in 2008), I picked up an unlocked Palm Treo Pro at their booth. They booth staff were very helpful.
If you need to get your hands on an unlocked mobile device or accessories, I recommend checking out Expansys' site. They've got a broad selection of devices, many of which you can't get from going to the Canadian telcos. They also have great service; back in December, I screwed up an order (chose a model that wouldn't work with North American HSPA), but an email was all I needed to get it straightened out – I even got an email from their customer service informing me that the problem had been fixed and that the phone I actually wanted was on its way!
Samsung Focus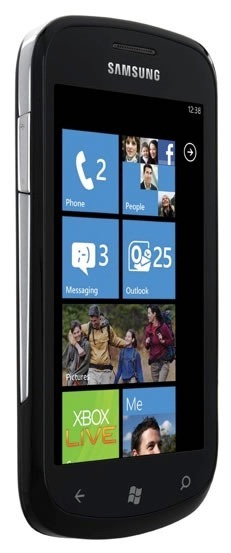 The Samsung Focus, a.k.a. the SGH-i917 or the rather unfortunate-sounding "Cetus" (a name that brings this Simpsons character to mind), is the WP7 device for Rogers subscribers. In the U.S., it's the WP7 device for AT&T customers.
Here's a quick run-down of the Focus' specs:
Screen
4" (diagonal) widescreen
Super AMOLED
480 * 800 WVGA
Processor
Qualcomm QSD8250 1GHz Scorpion
Memory
512 MB RAM
1 GB ROM
8 GB internal flash memory
Camera
5-megapixel rear-facing autofocus w/ LED flash
720p HD video recording
Input/Sensors
Multi-touch (4 points) touchscreen display
Dual microphone
3-axis accelerometer
Digital compass
Proximity sensor
Ambient light sensor
Networks
Rogers Wireless / AT&T Mobility
Wi-Fi b / g/ n
Bluetooth 2.1 + EDR
A-GPS
FM radio
Battery
1500mAh Li-on
Talk: Up to 6.5 hours
Standby: Up to 300 hours
Physical dimensions
Size: 123 * 65 * 10 mm (4.84" * 2.56" * 0.39")
Weight: 115g (4.07 oz)
Of all the currently available Windows Phone devices, the Focus is the thinnest and lightest.
The Unboxing
Expansys sent me an unlocked AT&T-branded Samsung Focus, which emerged from its bubble-wrap envelope in this box:
Here's the box with the top removed, revealing the first layer: a mini-box with a "Welcome to AT&T" message and some quick start guides: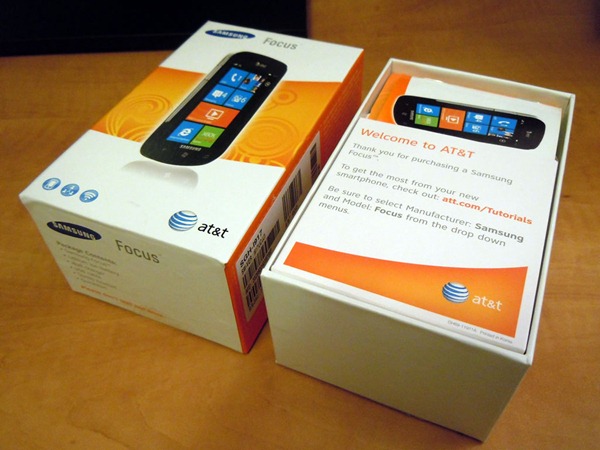 Next layer: the phone itself. The phone is in a little plastic bag and has two static-cling "stickers", one on the front, one on the back (which I'll show in a couple photos later on).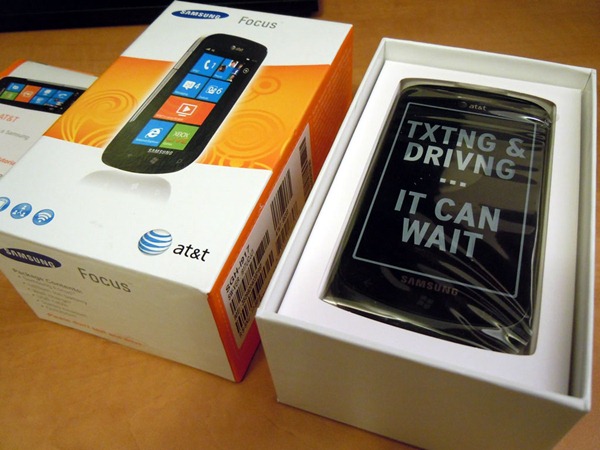 Beneath the phone: another mini-box with the meatier full manuals.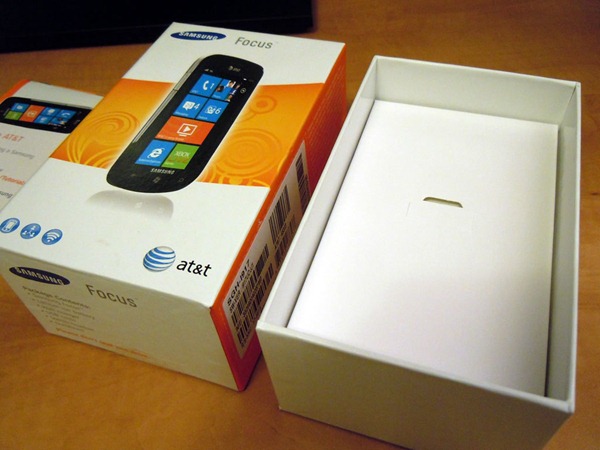 And finally, the last layer: the ancillary hardware…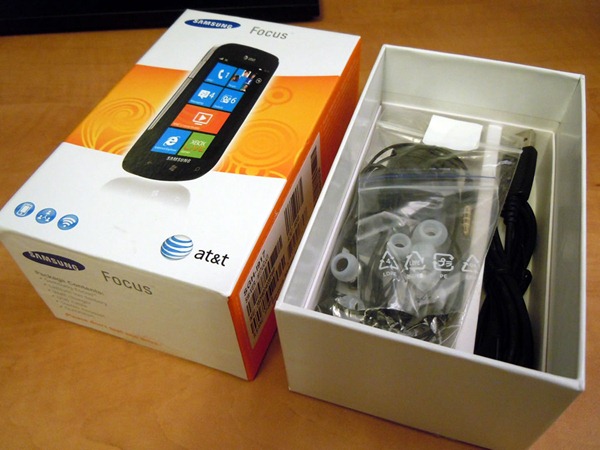 Here's the ancillary hardware, all laid out so that it's easier to see: headphones, AC-to-USB plug, battery and USB cable (the phone uses the standard MicroUSB jack):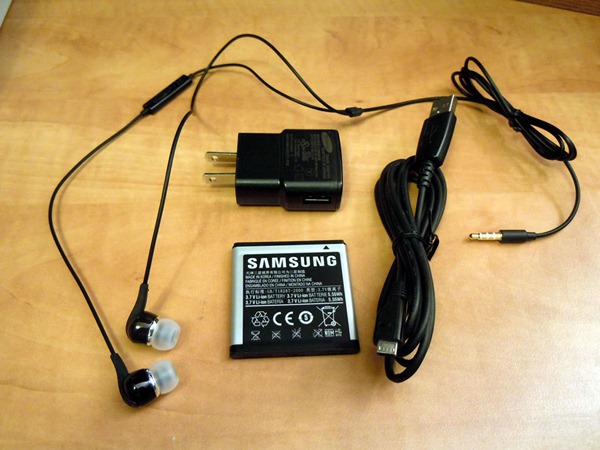 Here's the front of the phone, with its static-cling "sticker" still on. I don't think the Canadian phones have these "Don't text and drive" warnings.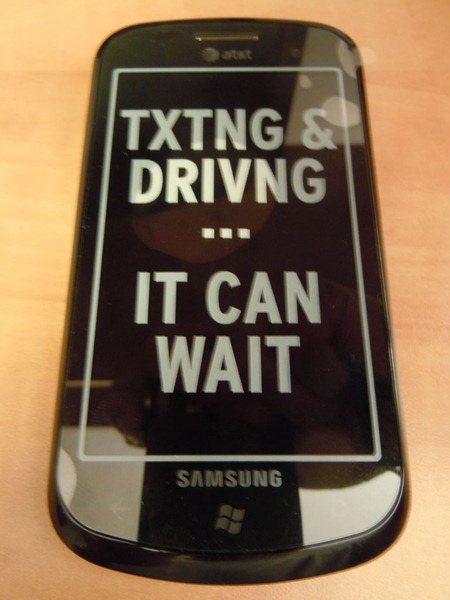 Here's the static-cling "sticker" on the back of the phone, with the standard warning about adding a MicroSD memory card to the phone to push its storage past the stock 8GB. Unfortunately, Windows Phones are a little fussy about the type of MicroSD cards you insert to it – you should only those whose specs match the phone's requirements. I haven't seen much info about what these specs are, so for the time being, I'm holding off on expanding the memory. For the time being, 8GB ought to be enough for…well, maybe not anybody, but it works just fine for me.