Selling in the "Age of the Customer"
"The customer is always right," the old saying goes, and it's never been more true than now. In a world where everyone is a potential publisher, broadcaster and reviewer and where word-of-mouth is now longer a neighbourhood phenomenon but a global one, the key to winning over customers is to know and engage them.
A recent report by Forrester Research titled Competitive Strategy in the Age of the Customer (and shared by the people at Get Satisfaction) has this summary of today's customers:
Empowered customers are disrupting every industry; competitive barriers like manufacturing strength, distribution power, and information mastery can't save you. In this age of the customer, the only sustainable competitive advantage is knowledge of and engagement with customers.

…Those that master the customer data flow and improve frontline customer staff will have the edge.
Get Satisfaction are in the business of helping businesses gain that edge, by helping them get to know and engage their customers. They also have a Shopify app to help you and your shop harness the power of community to answer questions and provide support, build loyalty and increase sales. We asked them a few questions about their app and what it can do for you.
What does your app do?
Get Satisfaction is a social media feedback tool trusted by over 50,000 companies to engage with informative, productive and engaging conversations with their customers. The Get Satisfaction app lets Shopify shopowners build their own Get Satisfaction community to get scalable customer support and product-specific content on each product page to help pre-sell visitors and get valuable feedback.
What are the key features of your app?
The Get Satisfaction app provides these features to your Shopify shop:
Infinitely scalable community support
A social knowledgebase/FAQ for your Shopify store and its products
Related community topics on each product page
Wide or narrow product page widgets, which fit a variety of templates
A boosted SEO footprint with highly indexable content
Why should shopowners use your app?
Community content and conversations aid customers in evaluating and buying products from your shop. The Get Satisfaction app gives you access to Get Satisfaction's set of tools for communicating with your customers and building a community around your shop. The conversations enabled by Get Satisfaction aren't just chatter; they create outcomes: questions answered, problems solved, and great outcomes for both your shop and your customers.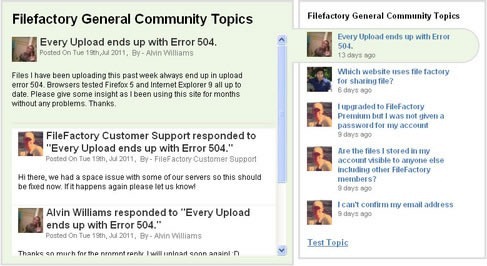 The Get Satisfaction community created around your shop can grow, and as it does, the knowledge about your shop and the products you sell within it also grows. Popular discussion topics become FAQs, great ideas get promoted up and problems affecting many get addressed in one easy-to-find, search-indexed place.
Tell us a little about yourself.
Get Satisfaction was founded in 2007 and is based in San Francisco. We power the world's best brands to solve problems, give a voice to champions, bring out the best ideas and drive better business.
Where can I find out more about the Get Satisfaction app?
You can find out more about the Get Satisfaction app on its page in the Shopify App Store.
You can also find out more about Get Satisfaction on their site, as well as on their very informative blog, aptly titled Social Studies.