The Shopify platform has a lot of great features "out of the box", and it's even better with apps — programs and utilities that extend Shopify by adding more capabilities to what's already built in. If you haven't done so yet, go and visit our App Store: the one-stop place for apps to enhance your shop in all sorts of ways, from boosting sales to improving the customer experience to simplifying the management of your shop. We've got apps aplenty, and more are being added all the time.
Today's featured app is colorandsize, an app that falls under the category of "simplifying the management of your shop". We asked Retail Technology, the creators of colorsize, some questions and posted their answers below.
What does colorsize do?
colorandsize makes managing your product variants a pleasure, saving you valuable time and money. If your shop carries products that come in many colors and sizes, you need colorandsize!
What are the key features of colorandsize?
colorandsize lets you…
Quickly create and edit products that come in multiple variants.
Manage variant sets such as size ranges that can be quickly re-used.
View your sales and stock figures in a clear and simple grid.
Quickly receive inventory.
Add additional variants to existing products in a few clicks.
Why should shopowners use your app?
colorandsize will save you valuable time and much effort.
Creating a style available in four colors and six sizes in Shopify takes 2.5 minutes. Using colorandsize to do the same only takes sixty seconds. The time savings adds up: with colorandsize, creating your average seasonal collection can be reduced by a staggering two working days!
colorandsize also simplifies Shopify's process of receiving inventory, cutting down the time it takes to seconds.
Changing a style's price in colorandsize is a breeze! It vastly simplifies and speeds up your style editing.
colorandsize also makes it easy to track sales trends based on color and size. It provides a clear and simple overview of your sales and stock, organized by color and size, putting valuable information at your fingertips. This really helps you to manage your stock and to optimize your sales!
colorandsize: clear and simple!
Tell us a little about yourself.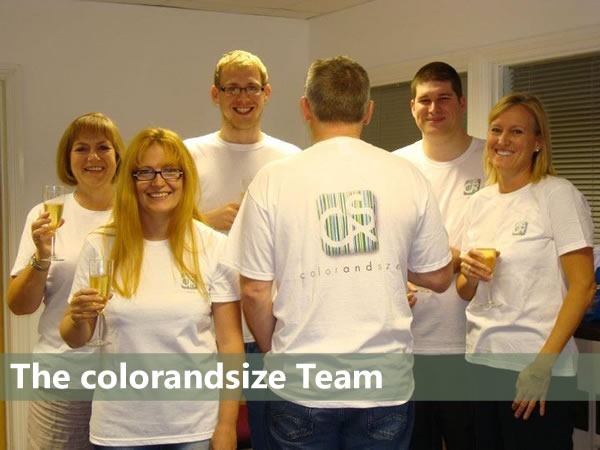 colorandsize is a concept borne from thirty years of first-hand experience in shoe and apparel retail operations. colorandsize is a spin-off brought to you by Retail Technology Limited who specialise in conventional point-of-sale and stock management systems. We service retailers throughout throughout the world.
colorandsize is dedicated to a first-class customer experience and its support team is there to help you every step of the way even if colorandsize really is easy to install and is very intuitive.
Where did you get the idea for the app?
colorandsize believes that the future of retail systems is in the cloud and wants to share its vast experience in the shoe and apparel vertical with other system providers. Further releases of colorandsize will support direct integration with Shopkeep and VendHQ.
Where can I learn more about Color and Size?
You can learn more about colorandsize at the Shopify App Store, as well as through colorandsize, who can be reached in the following ways: