The era of powerful portable computers, mobile phones, the internet and an increasingly globalized economy has made it possible for people to start businesses in their living rooms, kitchen tables, spare bedrooms and home offices, as well as "third places" such as cafes. I myself have done work at all these places; in fact, as I type this, I'm in a friend's living room (see the photo above for my current setup).
As nice, inexpensive and convenient as it is to work from home and as pleasant as it is to work at a café, there comes a time when you need to work at a place structured a little more like an office. Home comes with all sorts of distractions and can be isolating; cafes also have their downsides, from security (who's going to watch my laptop while I'm in the bathroom?) to jockeying for the table close to the power outlet to wearing out your welcome from a staff who might see café work as freeloading. At the same time, leasing an office is too expensive for most of us. An increasingly popular solution to this problem is coworking.
With coworking, you work in an environment that physically resembles an office, with desks and chairs, meeting rooms and some shared facilities. The difference is that the space is shared by people or groups who typically aren't working for the same organization; they're paying rent on one or more desks that they may or may not use full-time. It gives you considerably more security than a café (you can generally feel safe leaving your laptop on your desk to go to the bathroom or get a coffee), the social interactions you'd get in an office environment, opportunities to collaborate with other people in the coworking space and a more casual feel than a typical corporate workplace.
Coworking has more of a community focus than superficially similar working approaches like business incubators and executive suites – there tend to be more nonprofit organizations, community-focused businesses and techies in coworking spaces. Just about every coworking space's "About" page on their website talks about the benefits of community, social interactions and just being able to work alongside other human beings being better than working in solitary confinement.
Many coworking spaces are open concept, which makes it possible to rent a single desk on a full- or part-time basis. Some larger coworking spaces offer small private offices for individuals or small groups who need a space of their own (the Shopify office in Toronto, which comprises four people including myself) rents such a private office at Camaraderie Coworking).
The Wikipedia article on coworking states that coworking people tend to participate in events like BarCamp, and having visited eight BarCamps in 2011 as Shopify's representative on the BarCamp Tour, I am inclined to agree. What appears below is a list of some of the notable coworking spaces in cities where the BarCamp Tour visited, and where we'd love to hold some kind of Shopify event in the future!
Launch Pad (New Orleans, LA)
Located in New Orleans' arts district, Launch Pad is a coworking space for local entrepreneurs, freelancers and creative types. It offers desks on a part-time and permanent basis, as well as a small number of private office spaces. It plays host to a number of tech events, including monthly programmer meetups for various tools and technologies (Ruby, Python, PHP and .NET) and was one of the places that opened their doors to BarCamp NOLA in July 2011.
The building in which Launch Pad is located – 643 Magazine Street – is home to a number of tech businesses and organizations, many of whom I met at BarCamp NOLA. In talking to them, I found that one thing that bound them together was a sense of a need to rebuild the city and its communities, a theme that pervades post-Katrina post-BP oil spill New Orleans. If you're a techie, creative or entrepreneur looking for a coworking space in The Big Easy with a strong community focus, you won't find one that's friendlier or more community-oriented than Launch Pad.
Here's a video that explains Launch Pad, starring a few of the friends we met at BarCamp NOLA:
Bucketworks (Milwaukee, WI)
Milwaukee's Bucketworks was the home of BarCamp Milwaukee in early October 2011. It bills itself as "a health club for your brain" in which they've swapped "the weight machine for the computer, the exercise bike for the table saw, and the mirrored aerobics room for the collaborative meetup room."
Of all the coworking spaces I've visited this year, this one was by far the largest. In its two storeys, it boasts over 20 rooms varying in size from cozy private offices to open areas large enough to handle BarCamp Milwaukee's kick-off session, a rooftop deck and a garage large enough to do small aircraft repair in. It spans 3 buildings and over 25,000 square feet.
The photo above shows the main downstairs room, which functioned as the room for BarCamp's kick-off session as well as a general meeting area. The photo below shows another downstairs room, which proved to be suitable for sessions on robots and 3D printing: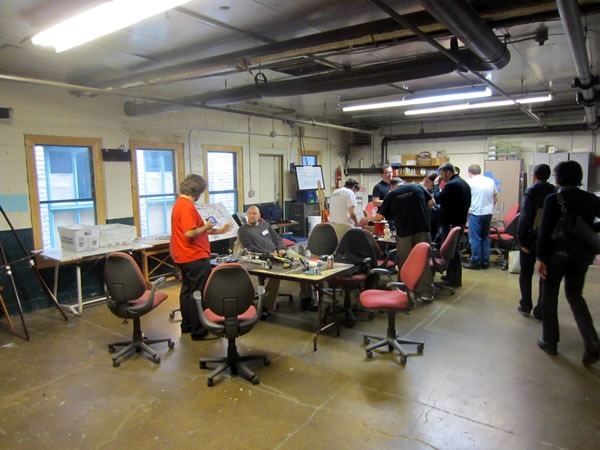 Bucketworks was large enough to get lost in, but also large enough to host nearly a dozen break-out rooms for BarCamp Milwaukee. Here's one of the upstairs rooms — it's large enough to host a developer meetup or an aerobics class:
That room pales in comparison to the really big one in the back: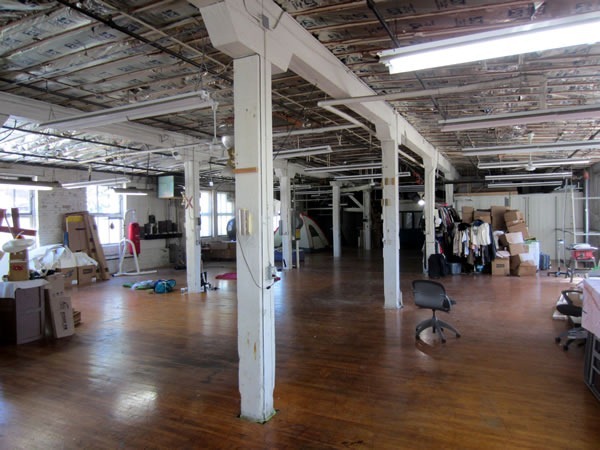 If you need a space that isn't so wide-open, you can opt for one of the meeting rooms. This one easily handled a BarCamp session with two dozen attendees and their laptops:
And if your space needs are a little smaller, there are smaller meeting rooms like this one:
Here's the central upstairs room, which offers access to just about all the other rooms upstairs:
And finally, if you need to get some fresh air, the rooftop deck is easily accessible from the kitchen area:
Bucketworks is an amazing space, and I'd love to lead some kind of Shopify or Ruby app development session there sometime this year. And, of course, catch the next BarCamp Milwaukee!
Independents Hall (Philadelphia, PA)
Mention "coworking" and "Philadelphia" in the same sentence, and someone will bring up Independents Hall, also know more coloquially as "Indy Hall". A play on the better-known city landmark Independence Hall, it bills itself as a coworking space and community for "designers, developers, writers, artists, entrepreneurs, scientists, educators, small business owners, telecommuters, marketers, videographers, game developers, and more". It unofficial mantra is "We all know that we're happier and more productive together than alone."
Located in Old City Philadelphia and very close to the city's most popular restaurants and bars, Indy Hall is a great place to mix your social and work lives. It's an open concept workspace covering 4400 square feet and offering 35 desks, each with gigabit ethernet in addition to 802.11n wifi covering the office. They offer amenities such as a conference room, projectors and other A/V equipment you can sign out, a networked laser printer, a lot of whiteboard space and free coffee.
CoCo Minneapolis and St. Paul (Twin Cities, MN)
CoCo — short for collaborative and coworking space — runs coworking spaces in both Minneapolis and St. Paul. The Minneapolis coworking space used to be the trading floor of the Minneapolis Grain Exchange and provides 16,000 square feet of space.
According to their site, they offer:
Casual and flexible workspaces for freelancers, entrepreneurs and mobile workers available on a membership basis
Permanent workspaces for individuals and groups, also available on a membership basis
Extraordinary meeting rooms and collaborative settings for rent by the public
Event space for conferences, meetups, fundraisers and receptions.
Facilitation for strategic planning, ideation and innovation sessions
Educational and social events
Here's CoCo's promotional video:
CAMP Coworking (Omaha, NE)
When I went to BarCamp Omaha in early September, I got to meet Omaha's thriving indie and startup community, and many of them sang the praises ofCamp Coworking. It's located in Omaha's North Downtown area in a building called The Mastercraft, which houses a number of startups and creative companies, which makes it an excellent location for the small indie or startup looking for a space with the right "vibe".
Collective Agency (Portland, OR)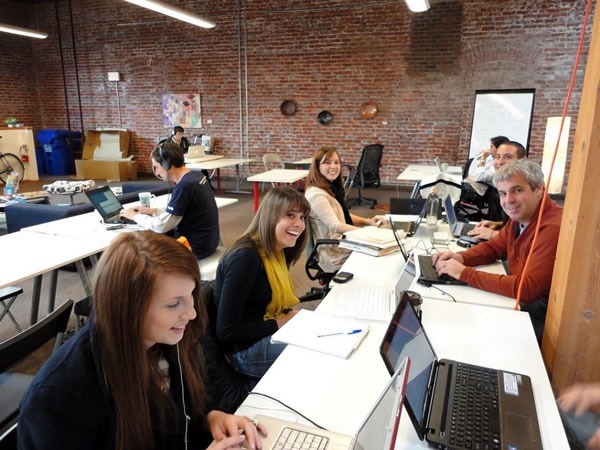 Portland may not be as big a tech hub as other cities on the West Coast such as San Francisco, San Jose and Seattle, but that doesn't mean there isn't a lot of tech activity going on there. For starters, it plays host to a number of O'Reilly conferences, most notably OSCON, as well as a number of smaller gatherings, which included BarCamp Portland, which took place in mid-May 2011.
One of the hubs of Portland's lively tech/indie/creative community is Collective Agency, Located in downtown Portland and only a hop, skip and a jump away from the Ground Kontrol arcade (it's my main Portland landmark), there've been a lot of good word-of-mouth and Yelp reviews about this place.
In addition to providing collaborative coworking space, they also play host to a number of workgroups of all sorts, ranging from software, research and social entrepreneurship to visual arts, film and theatre.
Bocoup Loft (Boston, MA)
Bocoup is a company that develops web applications, and Bocoup Loft is what they call an "open source hacker space" within their offices. It's close to South Station, which puts it within an easy walk from Boston's Chinatown and therefore one of the hacker food groups.
As a part of a web developer shop, Bocoup Loft is a coworking space specifically aimed at techies and developers, offering "plenty of bandwidth, server space and smart people". They also play host to a number of tech talks, including John Resig's Things You Might Not Know About jQuery and Tim Branyen's Advanced jQuery Templates. As an added bonus, working at Bocoup loft puts you within very close proximity of a number of open source projects and their contributors.