A few of my coworkers from Shopify and I spent most of last week at ConFoo, the annual "web techno conference" in Montreal. With 600 attendees from Canada, the United States and Europe, 100 of whom were speakers, it may very well be the largest web and mobile developer conference in the area (eastern Canada and northeastern U.S.) that takes place this time of year.
We presented at two sessions: Ruby as She is Spoke on Thursday and Mo' Money, Less Problems with ActiveMerchant on Friday, attended a number of interesting presentations, mingled with developers who came to the conference from far and wide and had a great time while doing so.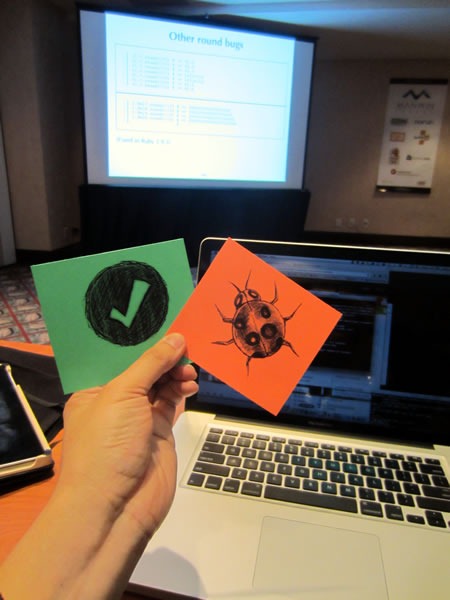 Confoo's organizers don't lack for ambition. The conference schedule featured 10 simultaneous tracks with 20 broad topics covering languages like Java, JavaScript, PHP, Python and Ruby, as well as topics ranging from Accessibility to the cloud, to data persistence to project management/agile to security to social netowrking to systems administration to testing.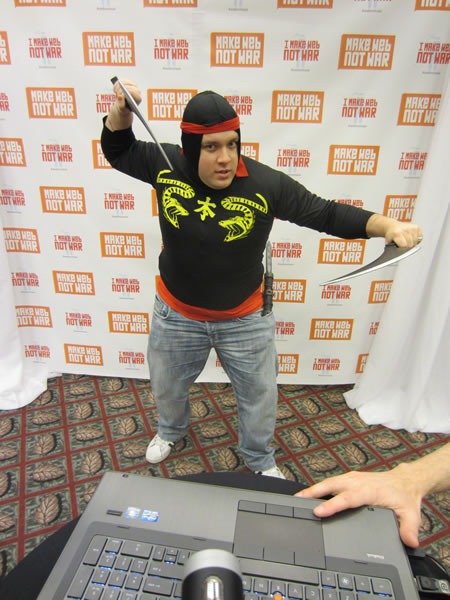 In addition to the sessions were a handful of booths where some local development shops were doing recruiting and the Make Web Not War Lounge sponsored by Microsoft and friends. The Microsofties had an Xbox and Kinect set up so that people who wanted to take a break could play Fruit Ninja, as well as a photo booth where you could strike your best ninja pose. Also present were ExoPC, who were showing off their touch applications on a tabletop touchscreen.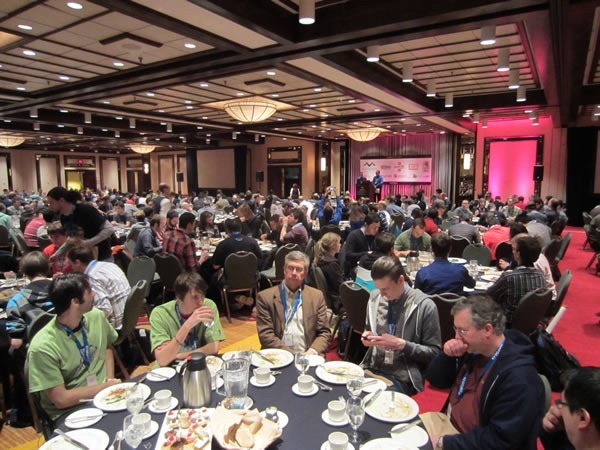 ConFoo has been held at the Hilton Bonaventure since its inception, and it's a good, solid conference venue. Located right downtown, a stone's throw from the central train station, a short walk from Montreal's "main drag" of Ste-Catherine street and a quick cab ride away from all manner of interesting neighborhoods, from Old Montreal to the Latin Quarter to Chinatown to Mont-Royal and more. The place was more than able to accommodate all 600 of us in ten tracks, and still leave plenty of room in which to hang out. The Hilton's rooms were quite good, and the food was also better than your typical conference fare, especially developer conference fare.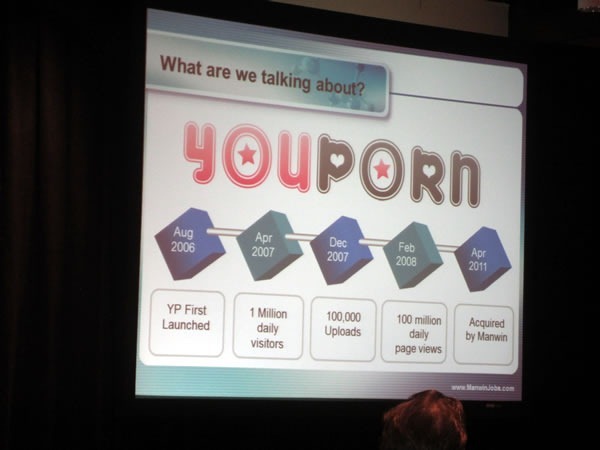 The opening day's keynote presentation took place at the end of the day rather than the beginning, and it was a fascinating one. Eric Pickup from Manwin talked about his most recent project: an ambitious effort to re-code their flagship website, YouPorn [here's a link to YouPorn's Wikipedia entry], from the ground up, in a matter of months, without the users even noticing.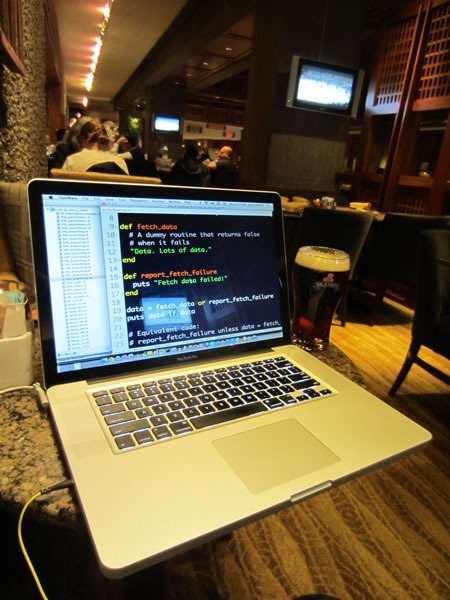 The conference wifi was quite good, allowing many of us to stay in touch with work, as well as make last-minute tweaks to our presentations.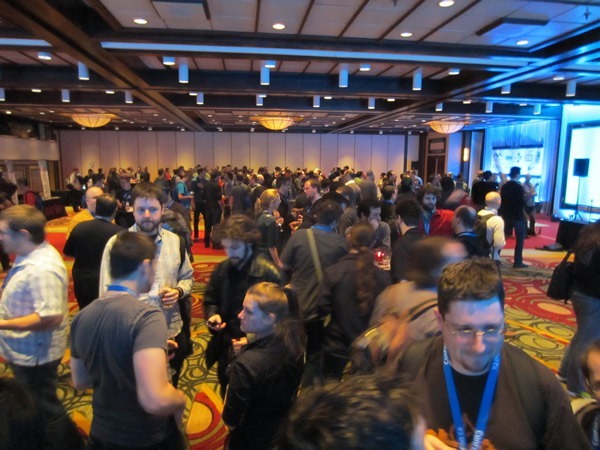 The ConFoo cocktail party took place Thursday evening, and it was a great way for all 600 attendees as well as interested non-attendees to get together, share ideas over drinks and just plain network.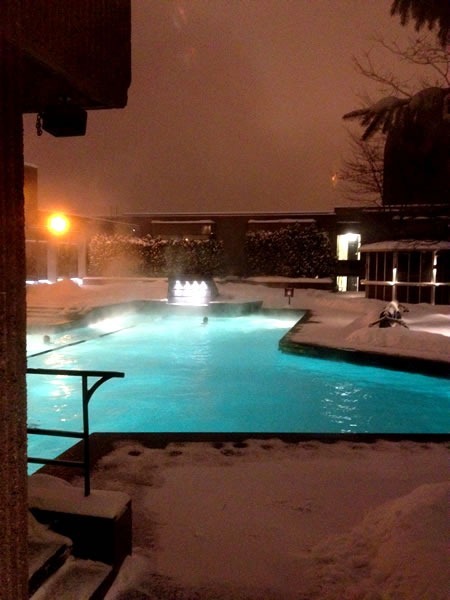 The rooftop outdoor heated pool was one of the most interesting diversions offered by the hotel. Even though it was –4 degrees Celsius (25 degrees Fahrenheit) outside and snow was falling, the pool was maintained at a constant 30 degrees Celsius (86 degrees Fahrenheit). It was great for either exercising and socializing with our fellow attendees.
The closing party took place at Le Cabaret du Roy, a restaurant with a 17th-century pirate theme serving rustic food – old-school brown bread, pemmican, ox cheeks, deer ribs and duck legs – with entertainment in the form of gambling and jigs and reels sung by the waitstaff and entertainers. They invited me onstage to join them on accordion for a couple of jigs and reels including that classic, What Do You Do With a Drunken Sailor?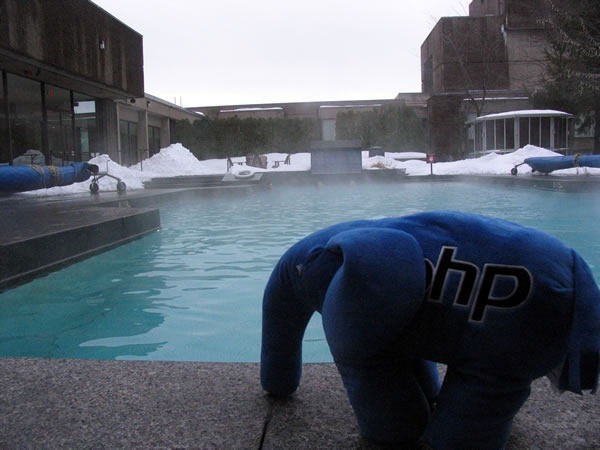 Would I attend next year's ConFoo? Most definitely. There's usually not much in the way of conferences around that time of year (late February/early March), and conferences that combine high-stuff/low-fluff technical depth with a broad range of topics and platforms are especially rare these days. The speakers they invite are great, the people who attend are a bright, enthusiastic international crowd, and the conference's size is large enough to make it interesting, yet small enough that it feels more like a temporary community than just a random meetup. Put that all together and set it in a lively city like Montreal, with its culture, nightlife and oh-so-many things to do, and you've got a must-attend conference. I'm looking forward to attending ConFoo 2013, and you can bet that I'll submit talks when their call for presentations come out later this year!