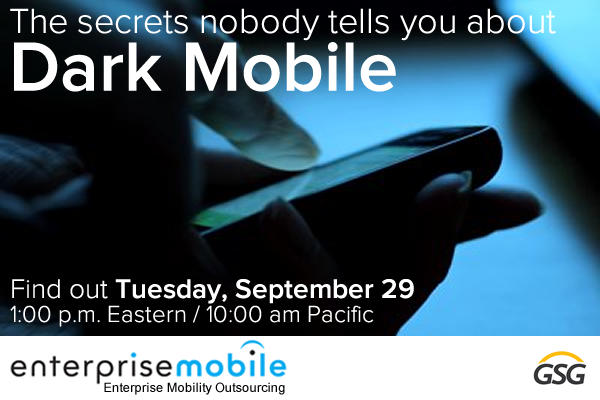 On Tuesday, September 29th at 1:00 p.m. eastern (10:00 a.m. Pacific), GSG and Enterprise Mobile will host a webinar titled The Secrets Nobody Tells You About Dark Mobile. It's free to attend, and you can register here.
In this webinar, Enterprise Mobile's VP Sales Jay Gordon and GSG's Platform Evangelist Joey deVilla will talk about that area of an organization's mobile telecom environment that goes, unobserved, unknown, or unmanaged — the terra incognita that we call "Dark Mobile". We look at the negative effects it has on a company's…
spending,
management,
security, and
efficiency
Join us in this quick webinar (it'll be about half an hour) as we look at the four kinds of Dark Mobile and how we can shed some light into this crucial area of your IT environment.