Hey, Tampa Bay area developers! Want to meet up with your local developer community, learn cross-platform mobile development with Xamarin and cloud development with Azure, and maybe hear a rock and roll accordion number or two? Then you'll want to come to the Tampa edition of Xamarin Dev Days this Saturday at the Tampa Bay Microsoft office in Rocky Point and get some free hands-on learning!
I'll be there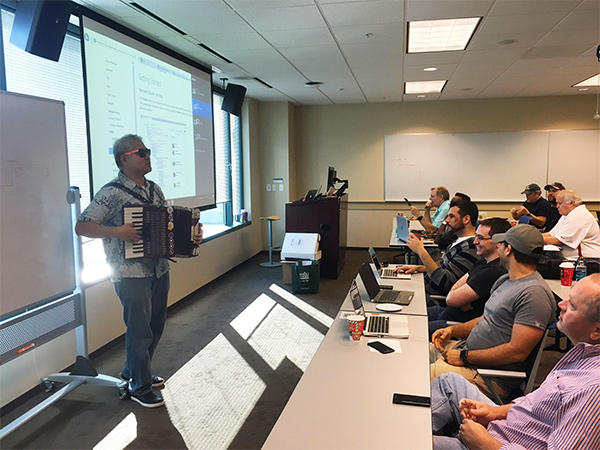 I'll be doing the first presentation of the day, Introduction to Xamarin, where I'll walk you through its features, risk just a little live coding in building a cross-platform image search app, and give you a taste of Xamarin's plugins, which let you go beyond write-once business logic and into write-once platform-specific features. You'll be impressed by what you can do with Xamarin in your toolbelt.
When, where, how to register, and what you'll need
It all happens on Saturday, June 17, from 9:00 a.m. to 4:00 p.m. at the Microsoft Tampa Bay office at Rocky Point (5426 Bay Center Drive, 7th floor).
Go here to register. It's free!
Here's the full agenda:
When
What
9:00 a.m. – 9:30 a.m.
Registration
9:30 a.m. – 10:10 a.m.
Introduction to Xamarin
Presented by Yours Truly
10:20 a.m. – 11:00 a.m.
Cross-Platform UI with Xamarin.Forms
Presented by Russ Fustino
11:10 a.m. – 11:50 a.m.
Connected Apps with Azure
Presented by Greg Leonardo
12:00 p.m. – 1:00 p.m.
Lunch
1:00 p.m. – 4:00 p.m.
The File → New App Workshop,
starring you, Xamarin, and the app you'll build!
Food will be served, and there will be wifi. What you should bring is a laptop — Windows or Mac — that's set up to do Xamarin development work. If you don't already have Xamarin tools installed, head here to download Visual Studio Community (which is free) for either Windows or Mac.
If you've never built an app with Xamarin before, you might want to check out these quickstart tutorials:
I'll see you there!